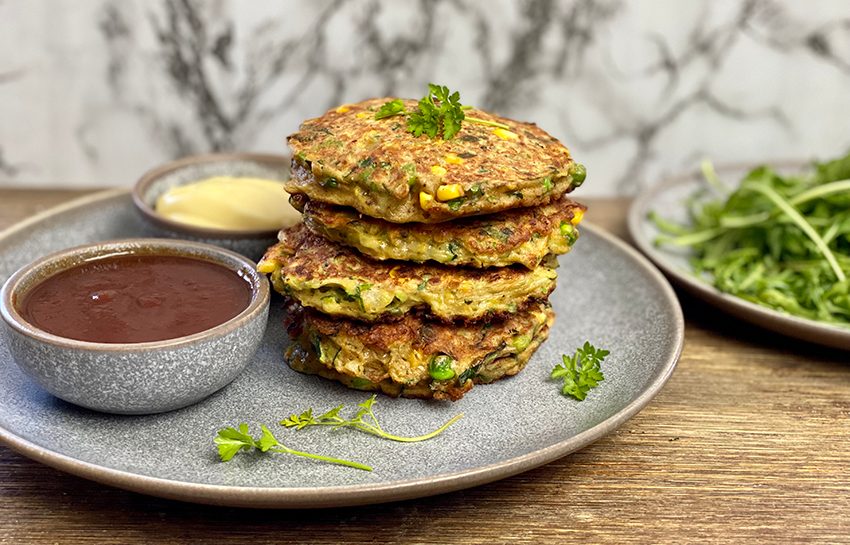 Zucchini Fritters
Zucchini fritters are a great lunch or dinner.
You can even serve them with breakfast instead of a hash brown!
It is entirely up to you if you fry off the celery, onion and garlic in this recipe.
Sometimes we do, and sometimes we don't. It is worth the effort, though!
– – – – – – – – – –
Ingredients
2 large zucchini, grated
1 large carrot, grated
1 large onion, finely diced
2 sticks celery, finely diced
1 cob corn, kernels removed
1 c fresh-shelled peas
¼ bunch spinach, stalks finely diced, leaves shredded
5 cloves garlic, crushed
¼ bunch parsley, chopped
¼ bunch chives, sliced
4 eggs, lightly beaten
1 c Parmesan cheese, grated
1 tbsp coarse salt
1 tbsp cracked pepper
Olive oil, to fry
Rocket, to serve
Sweet chilli sauce, to serve
Method
Place grated zucchini in a colander and drain for 10 minutes.
Combine all fritter ingredients in a bowl.
Heat a large frypan over medium heat, drizzle in olive oil and spoon two large tbsp of mix to create a pile. Don't overfill the pan.
Fry for about 2 mins, turn and fry for another two mins. Turn again and cook for a minute more on each side. Drain on a paper towel.
Serve with rocket and sweet chilli sauce.