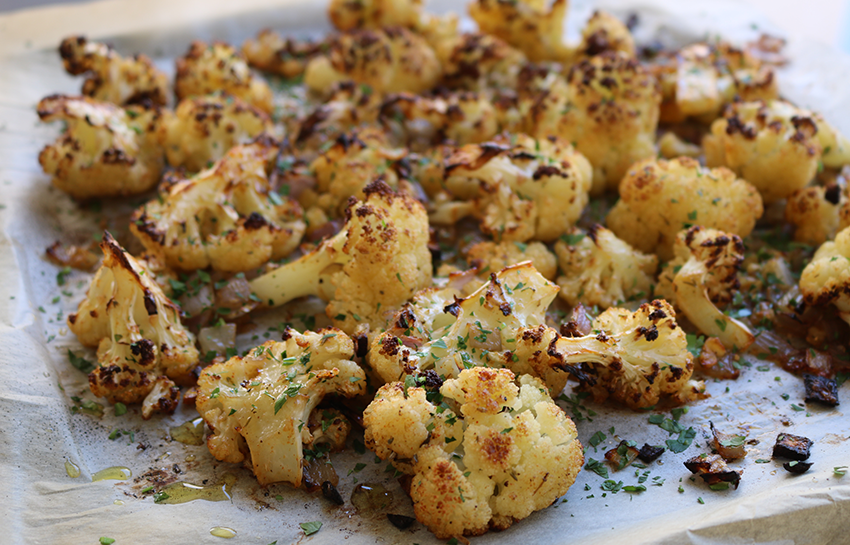 Roasted Cauliflower Florets
If I've learnt anything about cauliflower this week, it's that an extra 20'C can make all the difference!
I first tried this recipe at 200°C for 20 minutes, but something wasn't quite right. Lacking crunch, the onion and garlic didn't caramelise and it tasted a bit like it was boiled rather that roasted. So, I gave it another go at 220°C for 20 minutes.
Wow!!! What a difference!!
Crunchy & charred on the outside and soft and fluffy on the inside. The onion was now deliciously caramelised and the garlic oh-so-crispy & nutty. I enjoyed it so much that we ate it straight off the oven tray!!
It's a really versatile recipe that you could add hot chilli flakes or a squeeze of lemon too… whatever your taste buds desire! My tip would be experiment on 1 or 2 pieces to make sure it's to your liking.
We'd love to hear your comments on how you seasoned your cauli or what you thought of this recipe.
Buon appetito!
Ingredients
1 head of cauliflower (approx. 1kg) cut into florets
1 red onion chopped
4-5 cloves of garlic roughly chopped
¼ cup olive oil & a little extra for garnish
1 tsp dried thyme (if using fresh thyme use 2 tsp chopped)
1 tsp sweet paprika
1 tbsp parsley finely chopped for garnish
Sea salt & cracked pepper
Method
Pre-heat oven to 220°C.
In a bowl add cauliflower, onion, garlic, olive oil, thyme & paprika and mix together evenly with your hands. Season with sea salt & cracked pepper and mix through.
Line a baking tray with grease-proof paper and put the mixture on the tray evenly.
Roast in the oven for 20 minutes. Give it a toss mid-way to get a nice even roast.
Remove from the oven. Serve drizzled with some olive oil & garnish with parsley.
Top Tip: Don't discard the leaves & stems of the cauliflower. They are edible and are great used in home made vegetable stocks.