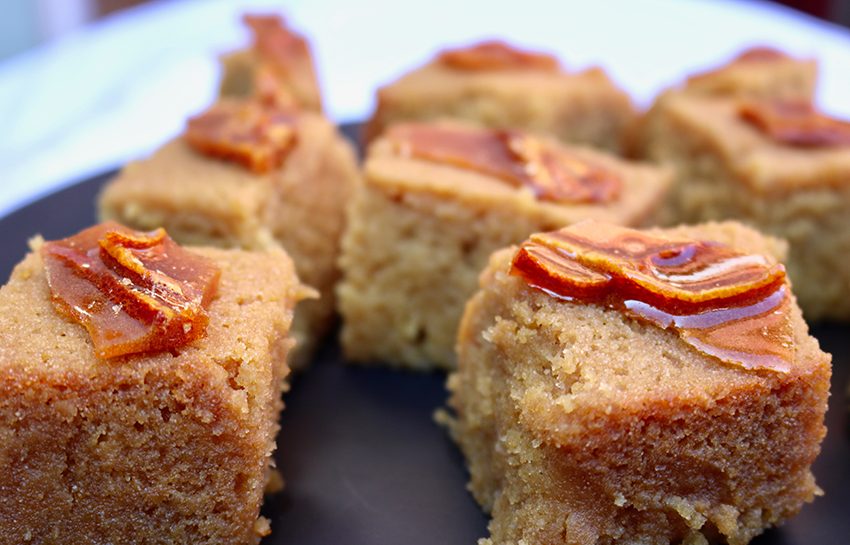 Vegan Orange Syrup Cake
Imagine the streets of Melbourne,
Lined with orange tree after orange tree…
Fruit as far as the eye can see…
Not in some orchard out in the country…
But right here in our very own city,
Where the oranges were so plentiful…
That you'd literally be able to have as many as you like,
By just picking them from the many fruit trees on your way to work…
Or in between shopping at your favourite store.
Sound like a fantasy?
Maybe for us here in Melbourne…
But in the historic Venetian town of Chania…
On the island of Crete, in Greece,
This is exactly what I stubbed across on one of my many Autumn walks!
I was stunned at how so many inner city streets…
Were transformed into a sea of orange…
And although you can't quite pick as much fruit as you want…
Because much of it is in peoples front yards…
There was an abundance of citrus quite like nothing else I'd seen in a city before.
When you live near the fruit…
You truly appreciate what it means to eat seasonal,
And you also get to taste fruit at its best.
And because there's so much of it going around,
At such an affordable price,
Its hard not to get creative and start using all the lovely fruit…
In ways that you never thought of before.
This week,
I pay tribute to my time in Chania,
And to the abundance of oranges available right now…
With a humble orange cake.
I've put a vegan twist on it…
Plus a little candy,
For the eye and for the crunch,
Which is kind of needed against the backdrop of my ultra moist orange sponge cake…
Drowned in orange spiced syrup for good measure.
I feel that a dollop of vanilla bean ice-cream..
Or mascarpone cream…
Would add even more to this little bundle of deliciousness…
I'll leave that decision to you.
All that's left to say now is…
Buon appetito!
– – – – – – – – – –
Ingredients for the Cake
1 ½ cups fine semolina
1 cup fine brown sugar
1 tsp baking soda
1 tbsp orange zest
½ tsp salt
1 tsp vanilla extract
1 cup freshly squeezed orange juice (pulp removed)
1/3 cup olive oil
1 tbsp vinegar
Ingredients for the Syrup
1 cup water
½ cup raw caster sugar
Juice of 1 orange (pulp removed)
4 cloves
1 cinnamon quill
Ingredients for the Orange Caramel (optional)
Peel from 1 orange
Juice of 1 orange (pulp removed)
½ cup raw caster sugar
Method
Pre-Heat Oven To 170'C
In a large bowl, mix together dry ingredients.
In a small bowl, stir together wet ingredients.
Gently & quickly combine wet and dry ingredients.
Oil a 20x20cm cake tin & pour combined mixture into it.
Bake for 35-40 minutes or until a skewer poked through the centre of the cake comes out clean.
Set the cake aside to cool in the tin.
Note: The cake should be cooked well and firm so when the syrup is poured over and soaks it, it stays together. If you aren't going to use the syrup, cook the cake for 25-30 minutes so that it is soft and moist.
Method for the Orange Caramel
Using a knife cut the white parts out of the orange peel and cut the peel into strips.
In a small saucepan add the orange juice, orange peel and sugar. Cook on a low-medium heat stirring occasionally, for around 15-20 minutes, or until when the syrup looks like caramel.
Remove from the heat. Lay some baking paper on a tray and pour the mixture onto the paper. Using a spatula spread out the mixture evenly and then set it aside to cool. Once it has cooled, break it up into pieces.
Method for the Syrup
In a medium saucepan add the water, orange juice, sugar, cloves and cinnamon quill.
Bring to the boil, then reduce to a simmer for 10 minutes. Remove from the heat.
To bring it together…
Cut the cooled cake while it's still in the tin then pour the syrup over the top, discarding the cinnamon quill and cloves.
Serve the cake with some broken up caramel and orange pieces and with some vanilla bean ice cream.