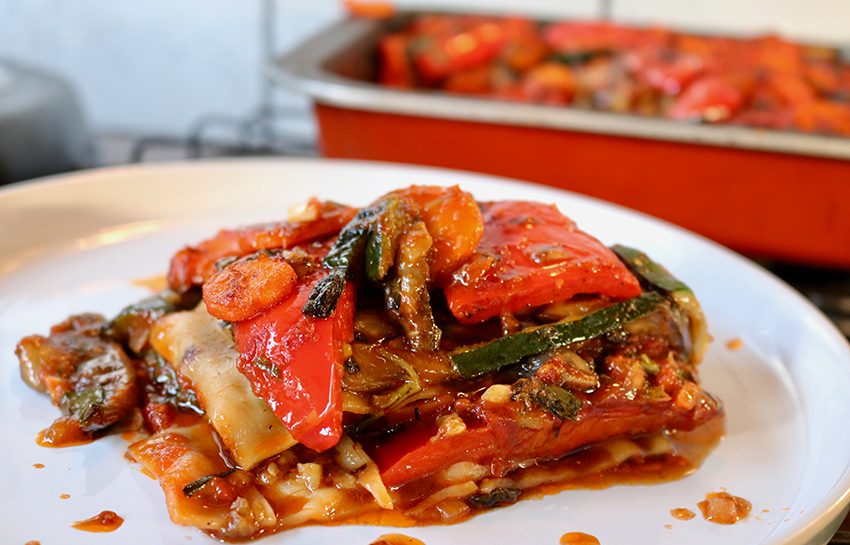 Rustic Vegan Lasagne
Except for maybe Mykonos or Sardinia…
Nothing says Mediterranean,
More than chargrilled vegetables!
Wellll….
There's probably a few things that do,
But that wouldn't work on the context of this recipe,
So go with me!
Summer is all about veggies like eggplant, zucchini and capsicums…
They are not only fresh and vibrant,
They are incredibly tasty too.
So when you chargrill them in top quality extra virgin olive oil,
Marry them up with some lasagne sheets,
And throw them into a hot oven,
Eagerly anticipating until they all come together as one,
It's no wonder you start salivating as the smell of the Mediterranean fills your kitchen.
I've held off on the mozzarella as we are vegan for a little longer,
But you could definitely add that,
Or some ricotta,
Serve with fresh basil and grated parmesan,
A glass of wine or maybe two…
And you'll feel like you never left!
The Mediterranean that is.
All that's left to say now is,
Buon appetito!
– – – – – – – – – –
Ingredients for the Filling
5 red capsicums, chopped
400g flat mushrooms, sliced
2 eggplants, sliced longways
2 zucchinis, chopped in slices
2 carrots, chopped in slices
1 red onion, diced
3 garlic cloves, chopped finely
1 cup basil, roughly chopped
680g passata
1 cup of water
4 lasagne sheets
1 tsp oregano
Olive oil
Sea salt & Cracked pepper
Method
Pre-heat fan forced oven to 180°C.
Heat some oil on a skillet and fry the eggplant, zucchini, mushrooms and capsicum (in separate batches) seasoning with salt and pepper, until they have colour and char, then remove and set aside.
Cover the base of a pot with olive oil and sauté the onion until translucent. Add the garlic and cook for 1 minute. Add the carrots and cook, stirring, for 3 minutes.
Add the passata, water, oregano and season with salt and pepper, then bring to the boil. Reduce to a simmer and cook, stirring occasionally, for 25 minutes.
Spread some of the sauce on the base of an oven dish. Add 2 lasagne sheets. Start to add layers of the veggies then cover with half the sauce. Add the other two lasagne sheets and repeat the process with the vegetables and sauce.
Cook in the oven for 45 minutes. Serve with some crusty bread and a leafy salad.