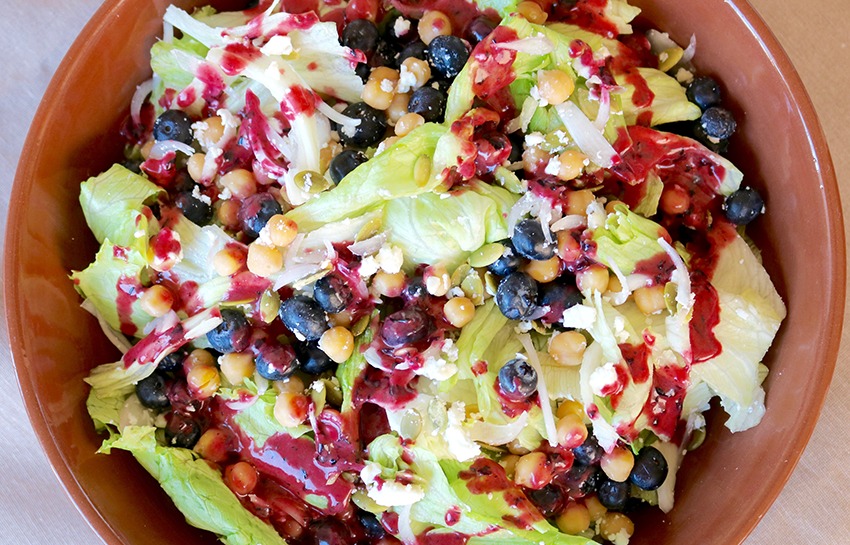 Blueberry, Chickpea & Iceberg Salad
With the temperature creeping up into the mid 20s this weekend…
We say bye-bye to soups and hello to salads!
This week's Foodie Friday's recipe not only showcases our pick of the week…
Plump, sweet & delicious, NSW blueberries!
It also showcases this week's special…
Crisp & refreshing new season Victorian iceberg!
Put the two together…
Add a little chickpea for texture & protein…
Some feta for saltiness & creaminess…
And for crunch…
Toasted pepitas…
And you've almost got yourself the perfect spring salad!
How to make it perfect?
With a little blueberry & apple cider vinagerette of course!
Blueberry, chickpea & iceberg salad is great on the eye…
And even better on the palette.
So make friends with salad this weekend…
As the Melbourne weather Gods (hopefully) turn up the heat!
Buon appetito!
– – – – – – – – – –
Ingredients
For the salad:
½ an iceberg roughly torn
1 cup fresh blueberries
1 medium red onion
1 cup cooked chickpeas
2 tbsp toasted pepitas
50g feta crumbled
For the dressing:
½ cup blueberries
¼ cup olive oil
1 tbsp apple cider vinegar
1 tsp honey
Sea salt & cracked pepper to taste
Method
In a blender/food processor add all the ingredients for the dressing and blitz until well combined. Set aside.
In a large bowl add all the salad ingredients. Add the ingredients in layers, starting with the leaves, then add a handful of the other ingredients, then the lettuce again and so on until you fill up the bowl, ending with the other ingredients on top so you see all the lovely colours.
Drizzle the dressing over the top & serve.