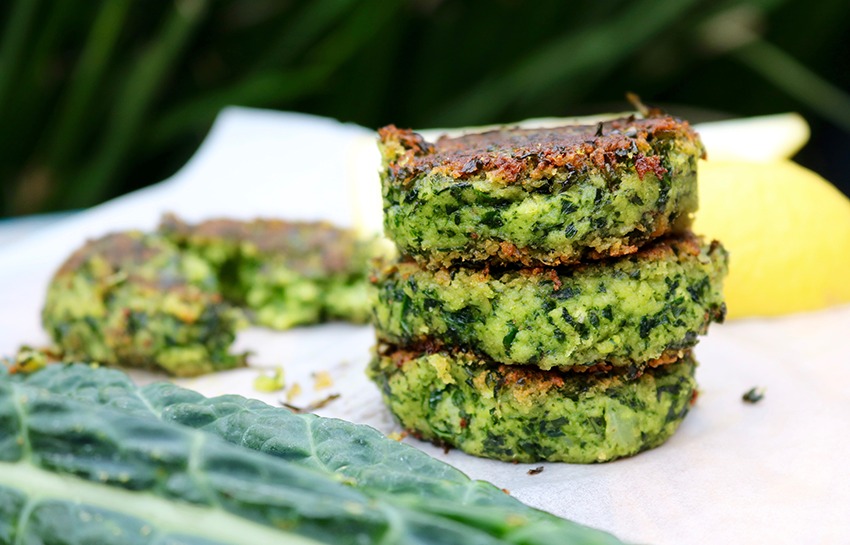 Tuscan Kale Bean Patty
Sunflowers…
Vineyards…
And rolling plains,
Is how I imagine Tuscany.
I've never been to what many claim is the home of the Italian Resistance…
But from what I've seen on TV,
The stories shared from friends who've visited,
And from travel magazines that keep showcasing these iconic images,
That's what stands out for me!
Kale probably isn't the food that you'd think of…
When hearing the word "Tuscany"…
But Tuscan Kale happens to be one of the most important ingredients in the region.
A superfood in its own right,
Tuscan Kale is packed with antioxidants,
Fibre, vitamins and minerals,
And unlike traditional curly kale,
Which can tend to be bitter and tough,
The Tuscan variety features a broader dark green flat leaf,
With a sweeter and nuttier taste.
Traditional meals with Tuscan Kale include soups and stews.
They're also great served boiled with olive oil and lemon,
Or fried with garlic and onion.
I love all of the traditional takes,
But I wanted to bring my own take on this classic ingredient,
Whilst keeping on the Mediterranean theme.
Beans, garlic and dill are often paired with the greens,
So I thought let's throw all of those into a patty,
And let's see what happens.
The result was a fluffy,
Creamy,
Bursting with flavour patty,
That I've dubbed…
The Tuscan Green Bean Patty!
Panko crumbs helped the patty bind,
And by dipping in the crumb before frying,
It also gave it a wonderful crunch.
We served it up with a simple rocket salad,
And a little dill herbed yogurt,
Chopped lemons for those that wanted a little more zing.
I feel the nonas in the Tuscan villages,
Would be pretty happy with my interpretation on these classic ingredients…
Even though they might not admit it!
I reckon you'll enjoy these too,
So I'll leave you with the only appropriate thing left to say…
Buon appetito!
– – – – – – – – – –
Makes 12 Patties
Ingredients
½ large bunch Tuscan kale chopped
½ brown onion diced
1 large garlic clove chopped
1 cup of dill chopped
1 400g can organic cannellini beans
Juice of one lemon
3 tbsp olive oil
1 ½ cups panko breadcrumbs, extra for coating before cooking
½ cup water
Salt & pepper
Method
Heat some oil in a large frying pan on a medium/high heat. Add the onion and sauté until it becomes translucent. Add the garlic and when you smell the garlic, around one minute or so, add the kale and sauté until it wilts. Season with salt and pepper to taste and set aside.
In a food processor, add the cannellini beans, 3 tbsp olive oil, lemon juice, ½ cup of the panko crumbs, water, dill and kale mix and blend until combined.
Put the mix in a large bowl and add the remaining 1 cup panko crumbs and mix well until combined evenly. Set aside for 10-15 minutes.
Heat some oil in a large pan on medium heat. Using a tablespoon, scoop out some mixture and with your hands roll into patties. Coat them in extra panko crumbs and fry until golden and crunchy on both sides.
Serve with some herbed yogurt, or as a burger in a bun with salad!