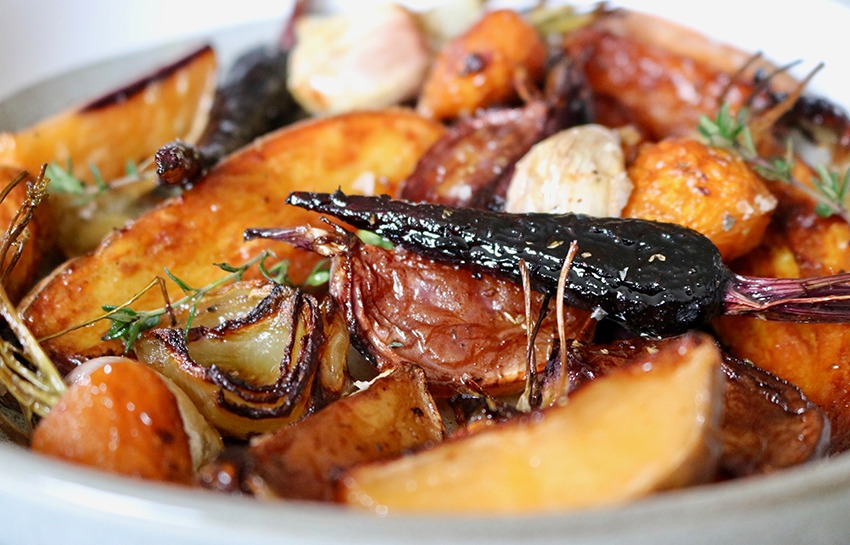 Roasted Mixed Winter Veggies
Move over complex…
Simple is back in town!
With so many cooking shows,
Cookbooks,
Magazines…
And of course,
Good old Google,
And YouTube,
Both there to hold our hand,
It can be very easy…
To opt for difficult!
But what about if ditched all the fancy…
And made cooking as simple as possible?
That's what I've done this week…
Letting the ingredients shine,
In their natural form,
Save for a little halving or quartering here or there,
Plenty of good quality extra virgin olive oil,
And of course,
My favourite salt in the world..
Mr Murray River!
Pepper too,
Lots of it..
And some lovely fresh thyme,
Adding aroma, eye appeal & a burst of flavour!
Have I forgotten to mention the dish?
Seasonal roast veggies,
Including lovely sweet swedes,
Nutty kiphler potatoes,
Gorgeous heirloom carrots,
Of all colors, shapes and sizes,
Although the purple were probably my faves…
Or was it the golf balls??
And loads of pickling onions and garlic,
Added a huge burst of flavour too!
Did I forget turnips?
Well…
You can too,
Because this dish is made to be messed with…
No cookbook, Google or celebrity chef required!
We've served this up with lamb shoulder,
And boiled silverbeet,
Feta cheese on the side,
And crunchy, grilled and seasoned,
Dark rye bread.
Not much left to say than
Don't forget the glass of red,
And…
Buon appetito!
– – – – – – – – – –
Ingredients
1 bunch purple Dutch carrots
1 bunch golf ball carrots
3 turnips
3 swedes
500g kiphler potatoes
6 pickling onions, peeled and halved
12 garlic cloves, skin on, smashed
½ cup olive oil
1 tsp oregano
Sea salt
Cracked pepper
Thyme for garnish
Method
Pre-heat oven to 200°C.
Chop the tops off the purple and golf ball carrots, leave a little on top for aesthetics, and wash them thoroughly.
Cut the purple carrots down the centre and leave the golf ball carrots whole.
Wash the kiphlers thoroughly and cut them in half, then wash the swedes and turnips and cut into quarters.
Divide the purple carrots, golf ball carrots, turnips, swedes, potatoes, onions and garlic evenly between two baking trays. I use two separate trays so the ingredients don't sweat and so they can caramelise nicely when roasted.
Pour ¼ cup olive oil in each tray. Sprinkle ½ tsp oregano in each tray too, then season both with sea salt and cracked pepper to taste.
Using your hands, mix the ingredients together so they're all coated in olive oil and seasoning.
Roast in the oven for 45-50 minutes. Serve garnished with fresh thyme and a drizzle of olive oil and a little more salt.