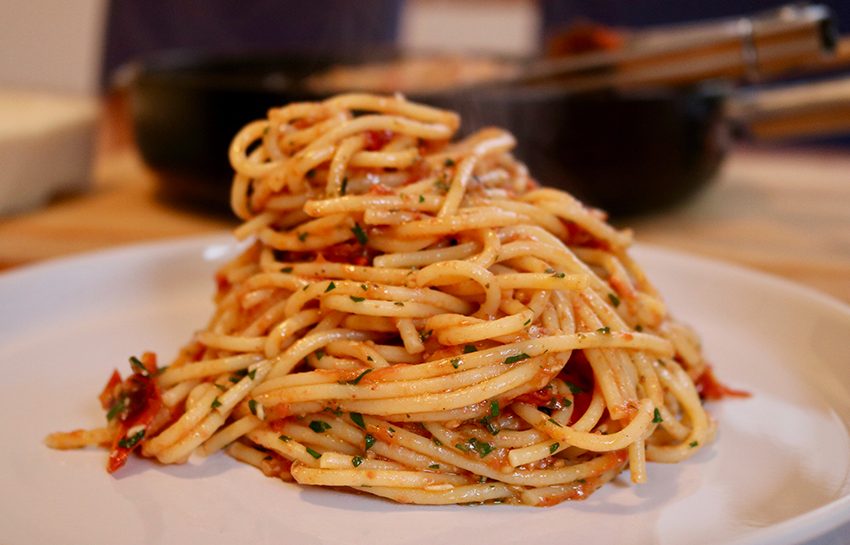 Roasted Grape Tomato Spaghetti
Can you remember the first meal you cooked?
I'm not talking about pancakes at home with the folks when you were a kid…
I'm talking about the meal that you first cooked,
When you moved into your own place…
And you just made that over and over,
Because you thought it tasted pretty great,
And maybe more importantly,
Because you didn't really know how to cook much else!
So what was it?
Was it a roast of some sort?
Maybe schnitzel or steak and 3 veg?
Or was it some sort of pasta?
For me,
It was spaghetti Bolognese!
Well kind of!
You see,
When I first moved out,
I didn't know how to cook that either…
But my mum,
Had me covered.
She'd whip up 4-6 containers of Bolognese sauce,
Freeze them,
And I'd pick them up every other week so I had plenty of stock on hand.
When someone came over for dinner,
Including my now gorgeous wife,
I would simply get the water boiling,
Get the pasta on,
And throw the Bolognese into a pot,
So that my guests were none the wiser,
That my delightful spag bol,
Was actually not 100% my doing.
20 years on,
I'm a lot better in the kitchen,
And my pasta range includes a lot more than white label bolognese sauce.
This week,
I display my culinary skills with a simple and delicious grape tom and anchovy sauce,
That I assure you was 100% me!
Wellll…
My now wife had 50% to do with it!
Either way,
Let us know what you thought,
When you have a go at it too.
All that's left to say now is,
Buon Appetito!
– – – – – – – – – –
Ingredients
800g grape tomatoes
4 large garlic cloves chopped finely
500g packet spaghetti
8 anchovy fillets
1 cup chopped parsley
½ cup shredded Parmesan, extra for garnish
½ cup olive oil
1 tsp dried oregano
Sea salt
Cracked pepper
Method
Pre-heat your oven to 180°C.
Chop the tomatoes in half. Put them in a large bowl with ¼ cup olive oil, garlic, oregano and season with salt and pepper. Mix together well using your hands.
Divide the tomatoes between two trays (scrape out the oil form the bowl if any and drizzle over the top) and roast in the oven for 30-40 minutes or until they have a nice colour.
Cook the spaghetti for 1 minute less then the packet instructions. Reserve 1 cup of the spaghetti water then strain the pasta and set aside.
Heat the remaining ¼ cup of oil in a large pan over medium heat and cook the anchovies until they have broken down and become a paste.
Add the tomatoes and cook for 1 minute. Add the spaghetti, parsley, Parmesan and water, season with salt and pepper and gently toss it for 1-2 minutes so that the spaghetti is coated with the sauce.
Serve garnished with extra Parmesan and parsley and a leafy green side salad.