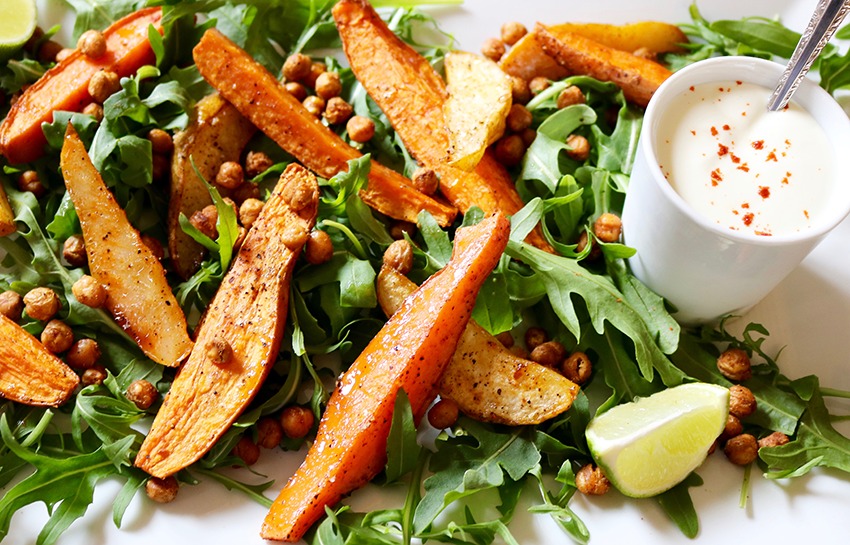 Roast Pear, Chickpea & Sweet Potato Rocket Salad
I have a confession to make.
I'm addicted…
To olive oil!
That's right…
Since spending a couple of years on the island paradise of Crete…
Which happens to be one of the world's longest producers of premium quality olive oil…
I just can't get enough of the liquid gold!
I drizzle it on my toast…
With a little salt & oregano…
I drown my veggies in it…
Before I roast them in the oven…
And I drown my Greek salads in it…
Mopping up whatever olive oil is left at the bottom of the salad bowl!
That's why this week…
I was more than a little apprehensive when my partner in crime…
And cook extraordinaire,
Aka wifey…
Put together a roast pear, chickpea & sweet potato rocket salad,
That had a non-olive oil dressing.
Technically,
You might argue with me and say…
That there is olive oil in the yoghurt and lime dressing!
I wasn't having any of that…
Until the time came for me to taste the dish.
Hold on…
Before I go on…
Give me a moment to get my foot out of my mouth!
The yoghurt, lime & olive oil dressing worked a treat.
Combined with the pepperiness of the wild rocket,
It was exactly what the sweet roast pear and sweet potato needed…
To balance this dish out!
And what a burst of texture,
And flavour…
From the slow roasted, cumin and paprika chickpeas.
My big tip with this dish is…
Do your best not to eat all the chickpeas,
While you're waiting for the pear and sweet potato to roast!
We got 3 good lunch time serves out of the menu…
But we probably ate 1 serve on the way through,
Tasting everything as it came out of the oven!
A glass of chilled rosé would make the perfect accompaniment to the dish…
As well as some lime to serve.
All that's left to say is…
Buon appetito!
– – – – – – – – – –
Serves 4
Ingredients for the Chickpeas
400g can chickpeas
¼ tsp ground cumin
½ tsp sweet paprika
1 tbsp olive oil
Sea salt
Cracked pepper
Ingredients for the Roast Pear Salad
2 Williams pears cut into eighths, skin on
500g small sweet potatoes quartered, skin on
¼ tsp ground cumin
½ tsp sweet paprika
3 tbsp olive oil
Sea Salt
Cracked pepper
100g rocket leaves
½ cup Greek style yogurt
2 limes, juiced
Method
Pre-heat your oven to 200°C.
Wash and pat dry the chickpeas, discarding any skins.
In a bowl, combine the chickpeas, 1 tbsp olive oil, ¼ tsp ground cumin, ½ tsp sweet paprika and some salt and pepper and toss to evenly coat the chickpeas.
Transfer the chickpeas to a lined baking tray and roast for 20-30 minutes, shaking tray occasionally, until chickpeas are golden and crunchy.
Remove from the oven and set them aside.
Reduce the heat on your oven to 180°C.
On another baking tray add the pears, sweet potatoes, 3 tbsp olive oil, ¼ tsp ground cumin, ½ tsp sweet paprika & salt and pepper and mix together with your hands until they are evenly coated.
Roast in the oven for 40 minutes or until the pears and sweet potatoes have softened and browned.
Combine yogurt with the lime juice, a small drizzle of olive oil and season with salt, then place into a serving jar.
Assemble the roast pears, sweet potatoes and rocket on a serving platter. Scatter chickpeas over the top, then using a spoon, drizzle with the yogurt sauce & serve. Season some more if required.