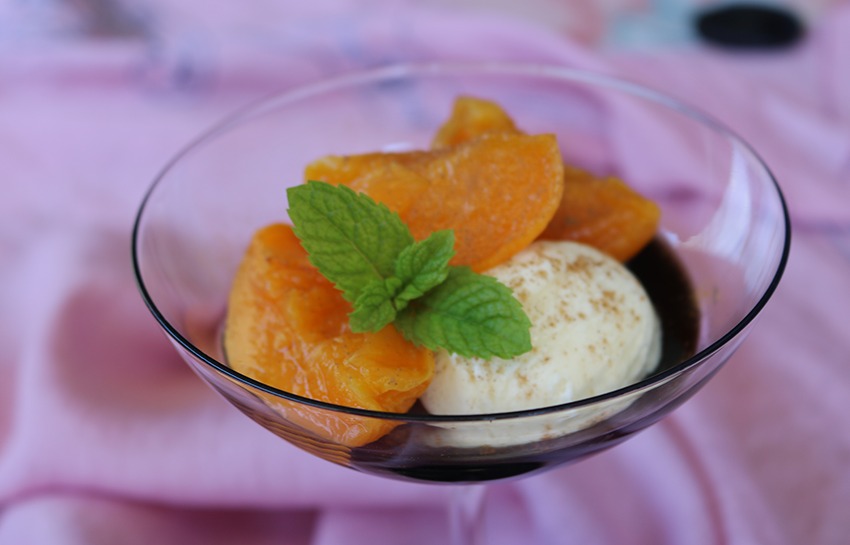 Poached Clingstone Peached With Grand Marnier
Once in a while…
Don't you like to have something a little special?
A little grown up?
And a little indulgent?
That's exactly what this week's recipe of the week is!
Gorgeous clingstone peaches…
Grand Marnier…
And vanilla bean ice cream, tick all the boxes we mentioned above.
Special, grown up & indulgent!
Poaching the clingstones in sugar water…
And finishing them off with the orange liqueur is just a match made in heaven.
But rather than being a duo it becomes a threesome by the addition of the vanilla bean.
Smooth, creamy and cool against the sweet and sensual poached fruit…
It's definitely a dessert I'd recommend for a romantic dinner for two.
Or three!!!
And before you start thinking there's too much effort in "special"…
I can assure you that it's really simple too!
Buon appetito!
– – – – – – – – – –
Ingredients
3 clingstone peaches quartered, pip removed
1 cup of water
½ cup sugar
2 tbsp Grand Marnier liqueur
Vanilla bean ice-cream of your choice
Mint leaves for garnish
Cinnamon for garnish
Method
In a medium sized pan, add the water and sugar and heat until sugar has dissolved.
Add the peaches and bring to the boil.
Reduce the heat to a simmer for 10 minutes. Keep turning the peaches as you cook.
Increase the heat to high for 3 minutes then back to a simmer for another 5-8 minutes or until the peaches are nice and tender.
Remove from the heat, add the Grand Marnier and stir to combine.
Transfer the peaches & syrup to a bowl and leave overnight in the fridge.
Serve the following day on vanilla bean ice-cream and garnished with mint, cinnamon & drizzle with some of the syrup.