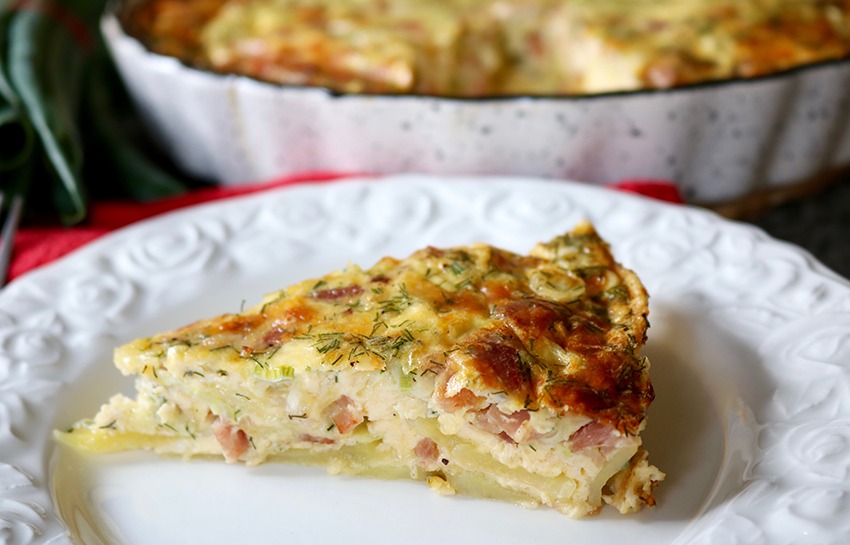 Crustless Spring Onion & Dill Quiche
A Viking experience,
Is what's on offer…
With this week's recipe of the week!
Not that I've been to Sweden,
Or Finland…
Or anywhere else in the Scandinavian precinct,
But I have seen enough episodes of Vikings,
To easily imagine what it would have been like,
When Ragnar,
Bjorn Ironside…
And Ivar the Boneless…
Were all conquering…
Feuding amongst each other…
Romancing…
Savaging…
And living a life,
Totally devoted,
To pleasing the Gods,
On the hope,
That one day they'll join them…
And enjoy an eternal life of pleasures,
With other worthy warriors,
In The Scandinavian paradise…
Of Valhalla!
This dish would surely please the Gods…
Or at least fit in with their dietary requirements,
(Perhaps not the bacon…)
But potato,
Spring onions and dill…
Would certainly make any Viking's top 10 meals.
A twist of couture,
Because we call it a crustless quiche…
And rather than throwing into a Nordic salad,
With salmon or trout…
We've added lots of lovely,
Pasture fed eggs…
Bacon as I mentioned earlier…
And a hot oven,
To ensure the Gods will be shining down on you,
All night long!
Admission…
I ate this cold, the day after…
Because I wasn't around for the main event,
When it allegedly came out of the oven,
Piping hot,
Cream bubbling…
And room filled with the aroma of pungent herbs.
It was amazing…
But I do look forward to eating it hot a second time,
Maybe with salmon or trout to make it even more Nordic,
And ensure my entry to Valhalla once and for all.
All that's left to say is…
Buon appetito.
– – – – – – – – – –
Ingredients
2 bunches spring onions chopped
450g desiree potatoes
200g mozzarella cheese grated
¼ cup chopped dill
1 tbsp grated parmesan
2 tbsp olive oil
2 tbsp flour
6 rashes bacon diced, fat removed
6 eggs
2 1/3 cups full cream milk
Sea salt
Cracked pepper
Method
Pre-heat oven to 200°C.
Slice potatoes thinly and combine in a bowl with the olive oil, parmesan and some pepper.
Grease a pie dish and arrange the potatoes, overlapping so there are no gaps, over the base and a little up the sides. Bake in the oven for 15-20 minutes, or until they have softened, then remove them and set them aside.
Reduce oven heat to 180°C.
Heat a frying pan on medium-high heat and cook the bacon just enough to give it some colour. Remove and set aside to cool.
In a bowl combine the spring onion, mozzarella, flour, dill and bacon and using your hands mix to combine all the ingredients. Season with pepper and mix thoroughly.
In a separate bowl, add your milk and eggs and whisk them gently.
Pour the eggs and milk into the spring onion mix and stir with a wooden spoon.
Pour the combined mix over the potatoes in the pie dish and cook in the oven for around 40 minutes. It is ready when it has browned and the egg has set.