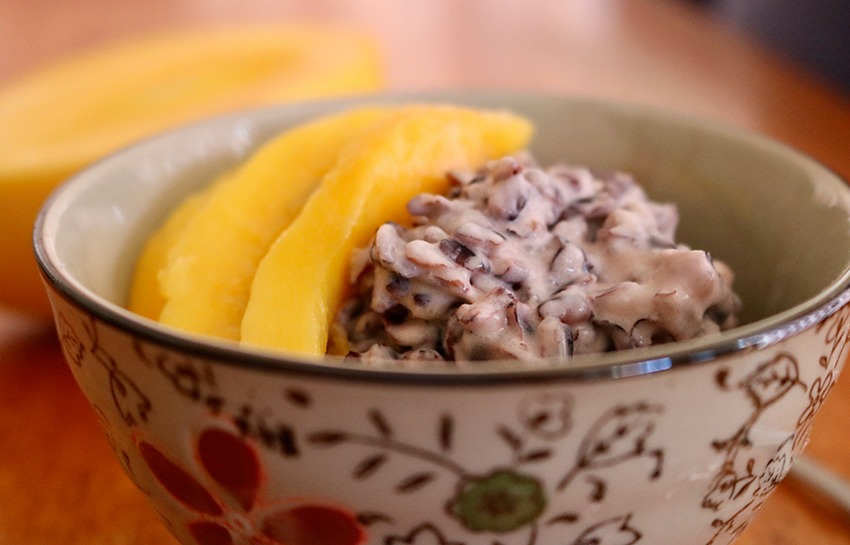 Black Rice & Coconut Mango Pudding
My dad can get a little funny when it comes to change!
And he'd be the first to admit it!
He likes things to stay as they are…
Don't get me wrong,
He'll experiment a little from time to time…
But there's some things that he's just stubborn on.
Bread at the dinner table, for example.
He won't eat dinner without it!
And he's not into fancy smanshy bread…
He wants white sliced loaf.
Ok…
He might be tempted,
Into a white dinner roll from time to time,
But no multi grain or rye!
He's also stubborn when it comes to veggies.
Stubborn I the sense that he won't eat them!
"I'll be right son, no need for any veggies on my plate today"!
He says "no" like he'll want them tomorrow…
But there's no chance.
So history suggests.
When it came to dessert today,
I was thinking it would be a straight out NO from the old man.
You see,
Just like me,
He's grown up on traditional rice pudding…
Made with full cream milk, sugar and WHITE rice.
When he got a whiff of rice pudding today…
He's sweet tooth led to immediate salivation,
But that saliva quickly turned dry…
When I told him it was black rice pudding!
"Ummm, maybe not son!"
I'm like…
"Just give it a go dad…
And if you don't like it..
Bin it!"
After some hesitation,
His sweet tooth succumb…
And the old man gave it a go!
Low and behold,
He liked it!
Maybe not loved it,
But he definitely enjoyed it enough to go for a second serve.
Our black rice and coconut mango pudding…
Is more textural than traditional pudding…
With the black rice having a lovely bounce on the bite.
The coconut cream makes for lovely richness and gives silkiness to the dish…
Whilst the mango,
Served on top as is,
Gives lovely freshness, colour and contrast to the pudding.
You could easily top with some caramelised coconut flakes,
Or toasted nuts –
Black sesame seed would look and taste goods too!
Either way,
The black rice and coconut mango pudding is simple and delicious…
And a very appropriate dessert for the summery days.
All that's left to say now is…
Buon appetito!
– – – – – – – – – –
Ingredients
2 KP Mangoes, sliced
1 cup water
1 cup black rice
3/4 cup sugar
1 litre unsweetened coconut milk
2 400g cans coconut cream
2 tbsp cornflour
1 cinnamon stick
Pinch of salt
Method
In a jug combine 1 cup of coconut milk, cornflour, sugar and the cinnamon stick and stir to combine well, then set aside.
In a medium size pot, combine the water, rice and a pinch of salt and cook over high heat until the water is absorbed.
Add in the remainder of the coconut milk and the coconut cream and bring to the boil, then reduce to a simmer for 30 minutes, stirring occasionally.
Increase heat to medium-high for 3 minutes, stirring every minute for a bit.
Add the jug that was set aside earlier and once it has come to the boil again, in about 2-3 minutes, turn the heat to medium-high and cook for a further 5 minutes to thicken up some more. Turn off the heat and leave it to cool a little and set.
Spoon into serving bowls and serve with freshly sliced mango pieces.