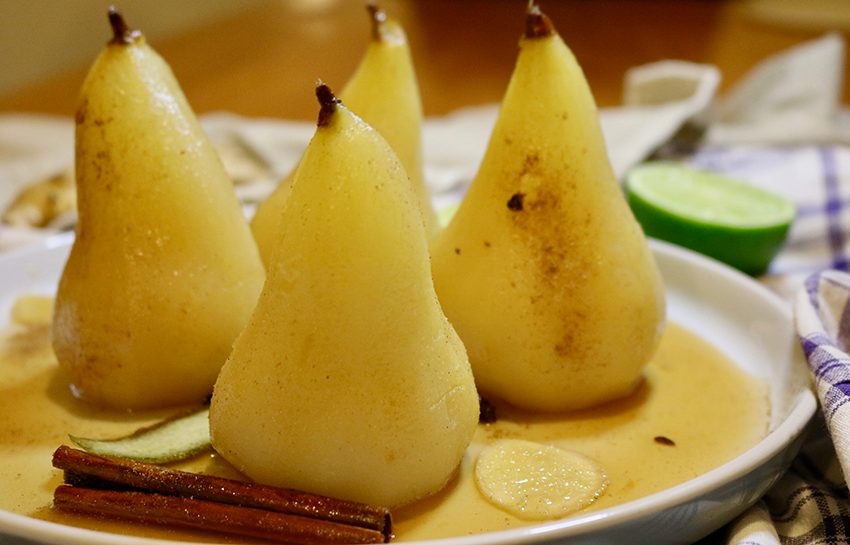 Ginger Poached Honey Pears
Do you ever get that feeling that…
Something's not quite right?
I'm not talking about logic.
For as much as we think we care about logic,
It's something else that's really driving our decisions.
It's a way to a man's heart…
The gut!
You know what I'm talking about.
That almost nauseous like feeling,
That you get when you go up,
Or is it down the tracks on the roller coaster,
Or over a sweep hump at speed,
Or even over the train tracks,
On the way from Burwood to Camberwell,
On Riversdale road,
When everything goes woosh,
When your car hits the train.
I think I've made enough comparisons,
And if you haven't felt that feeling yet,
You might be feeling it now!
So,
What gave me this feeling?
It was dessert.
Brown pears,
Poached in a honey syrup of lime, ginger and cinnamon.
There was something not quite right as I took in one spoonful after another.
I couldn't quite put my finger on it…
But I knew something wasn't right.
I really was feeling it in the gut,
Not the pear,
The confusion…
And then,
Three quarters of the way done,
The light bulb flashed!
I forgot the yoghurt!
Frustrated and relieved at the same time,
I pulled it out of the fridge,
Scooped some out onto my plate…
And there it was,
The feeling was right,
It was telling me the truth,
The dish was incomplete,
And the yoghurt completed it.
All that's left to say now is,
Don't forget the yoghurt,
And buon appetito!
– – – – – – – – – –
Ingredients
4 brown pears
40g ginger peeled and sliced
¾ cup honey
1 cinnamon stick
8 cloves
2 peels of lime zest
Juice of 1 lime
1 tsp vanilla essence
4 cups of water
Pinch of sea salt
1 cup full fat Greek yogurt
Ground cinnamon to serve
Method
Peel the pears then cut the bottoms so that they are flat and can sit upright for serving. Using a knife cut the pips and core out from the bottom and then set them aside.
In a medium pot, add the water, ginger, honey, cinnamon, cloves, lime zest, lime juice, vanilla essence and pinch of salt and heat on a medium heat.
Once the honey has dissolved, add the pears on their side and bring to a simmer. Simmer them uncovered for 30 minutes or until they are tender. Keep turning the pears so they poach evenly.
Remove the pears from the pot to cool and leave the syrup in the pot to reduce, around 20 minutes or so.
Once the syrup has reduced, remove it from the heat and allow it to cool slightly before serving.
Plate the pears divided in their bowls and drizzle them with the syrup. Add some of the ginger pieces and a serving of the yogurt. Dust with cinnamon and serve.