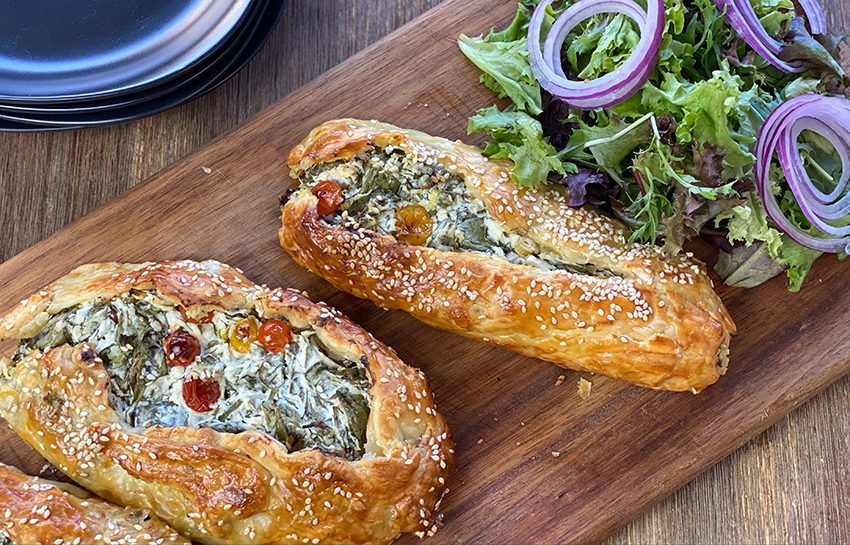 Ricotta, Spinach and Sweet Tomato Sausage Rolls
These spinach and ricotta rolls are easy to make and taste fantastic.
When you bring the pastry together, leave part of the top unsealed; it gives them a great rustic homemade look.
– – – – – – – – – –
Ingredients
1 roll carême puff pastry
150g baby spinach
500g Ricotta
¾ cup Parmesan, grated
1 tub tomberry tomatoes
1 bunch brocollini, finely chopped
¼ bunch dill, roughly chopped
Juice & zest 1 lemon
4 spring onions, thinly sliced
1 tsp salt
1 tsp pepper
1 egg, lightly beaten
1 tbsp sesame seeds
Method
Preheat oven to 200°C
Combine spinach, ricotta, Parmesan, tomberry's, broccollini, dill, lemon juice and zest, spring onions, salt and pepper. Mix to combine well.
Cut the pastry in half lengthwise.
Place baking paper on a baking sheet and lay the pastry on top.
Divide the mixture between the pastry sheets and gently bring the pastry up the sides of the mixture. Cut the lengths in half and pinch the ends of the pastry together.
Brush with beaten egg and scatter over sesame seeds.
Bake for 25 mins or until the pastry is golden.