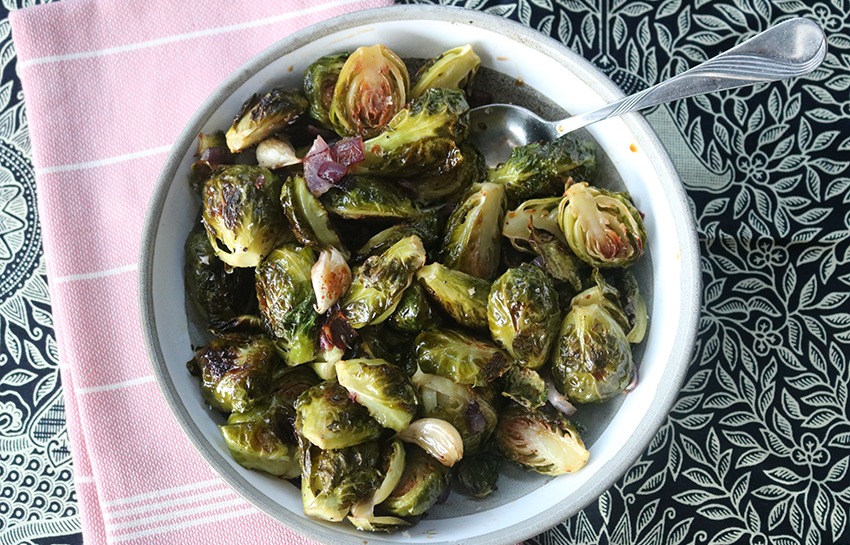 Garlic Roasted Brussels Sprouts
Let's face it…
When you're thinking popular veggies,
Brussels sprouts don't spring to mind as top of list!
In fact,
When I did a Google ™ search on least favourite veggies,
The poor old Brussels sprout ranked top of plenty of online polls.
But I'm guessing whoever voted in those polls,
Hadn't tasted this week's recipe of the week!
Sweet & salty…
Crispy & charred.
Absolutely delightful!
That's how I'd sum up the vibrant bowl of goodness pictured above.
As is,
You would probably serve it as a side…
A great companion to a roast or a piece of fish!
But,
Confession…
We served it with some spaghetti…
Simply tossed in olive oil & some chopped chili,
It made for a simple, delicious and tasty main!
If you haven't had your fix of BS this Autumn,
Now is the time to get roasting these nutritious
And we think delicious,
Bundles of goodness.
Buon appetito!
– – – – – – – – – –
Ingredients
500g Brussels sprouts
1 red onion largely diced
6 garlic cloves skin on & crushed
2 tbsp olive oil
1 tbsp balsamic vinegar
sea salt
cracked pepper
Method
Pre-heat oven to 200°C.
Trim the ends of the Brussels sprouts and cut in half lengthways. Keep any stray leaves from the Brussels sprouts because they crunch up nicely when roasted.
In a large bowl add the Brussels sprouts, garlic, onion and olive oil and toss with your hands to combine. Season with salt & pepper and give another toss.
Line a large baking dish with baking paper and arrange the Brussels sprouts side down in the dish. Add the remaining mixture scattered over and around the sprouts including the stray leaves.
Roast in the oven for 40 minutes, turning them throughout the cooking process.
Remove from the oven and put in a serving dish. Drizzle with the balsamic vinegar & season with some salt and pepper if required. Serve.