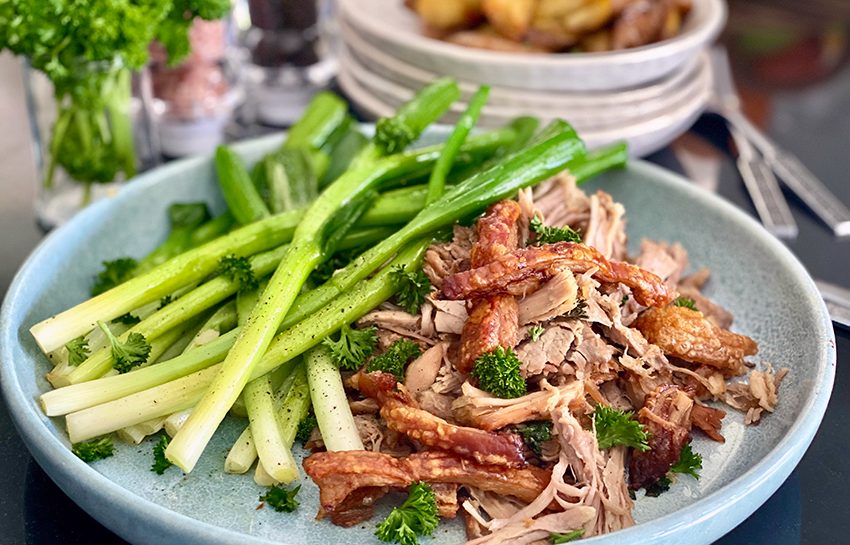 Roast Pork with Butter Sautéed Spring Onions
Cook this pork and these spring onions low and slow. The trick with the pork is to blast it with high heat at the start of cooking, and then turn the oven right down 120°C for about 6 hours.
Ask your butcher to give you a boneless pork roast that has the skin all the way around it, and roast it on a wire rack in a baking dish. When the meat is sealed inside the skin, it retains more of the juice and helps to keep the meat soft, tender and juicy.
If you can't get a piece wrapped in skin, buy a separate piece of skin and wrap it underneath the pork roast. Secure with cooking twine or elastic butchers loops.
– – – – – – – – – –
Serves 6
Ingredients
For the Pork
1.7kg boneless pork shoulder
Coarse salt
Cracked pepper
For the Spring Onions
2 bunches spring onions, roots and tops removed
2 tbsp butter
2 tbsp olive oil
1 clove garlic, crushed
Coarse salt
Cracked pepper
For the Potatoes
1 kg kipfler potatoes
2 Spanish onions, quartered
6 cloves garlic, crushed with the flat of a knife
Coarse salt
Cracked pepper
Fresh parsley to garnish
Method
For the Pork Roast
Preheat oven 240°C
Dry pork skin well. Rub with salt and pepper, place on a wire rack in a roasting tray, and roast until the skin has crackled — anywhere from 35 to 45 minutes, depending on your oven.
Once crackled, reduce heat to 120°C and slow roast for 5 to 6 hrs.
For the Potatoes
Place potatoes, onions and garlic on a tray, toss in olive oil and season with salt and pepper.
Cover tray with foil and put in the oven about an hour and forty-five mins before pork is cooked.
Once pork is cooked, remove from the oven and cover loosely with foil.
Turn the temp to 200°C, toss the potatoes, cut a couple of lines in the top of each one, and roast, uncovered, until crisp.
For the Spring Onions
Heat a frypan over medium-low heat.
Add olive oil, butter, garlic and spring onions and sauté until they start to soften and slightly caramelise on one side — season with salt and pepper.
Serve it all on a big platter and garnish with fresh parsley!