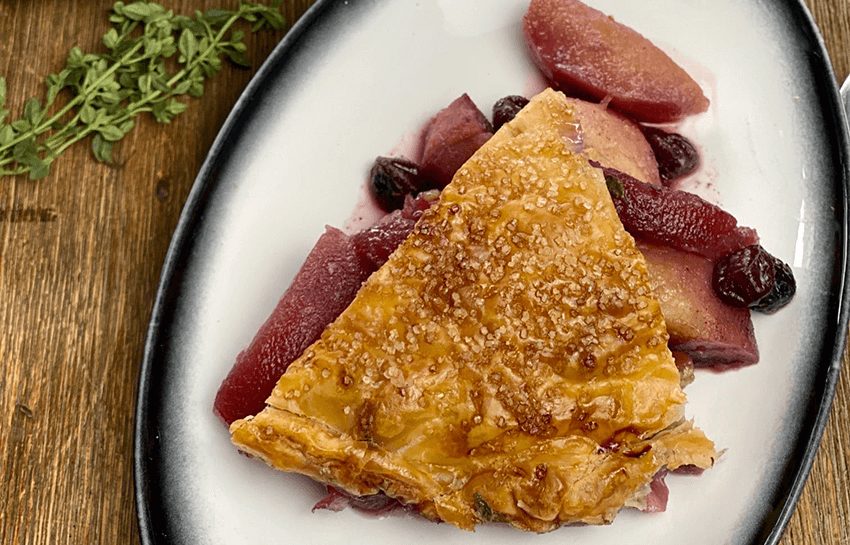 Easy Apple & Blueberry Pot Pie
This week's Monday Meal is a dessert made easy.

We've taken the hassle out of our apple and blueberry pie with a no-cook filling, and topped it off with a sheet of Carême puff pastry.
Yes, that's right, no need to make a pie crust. Just follow our lead and keep it simple
Ingredients
8 apples
1/2 cup brown sugar
1/2 cup raw sugar
1 tsp cinnamon
1 tsp nutmeg
1 tsp ginger
pinch of salt
1 sheet of Carême puff pastry
1 cup frozen blueberries
few sprigs of thyme
Method
Peel, core and slice apples; place in a bowl.
Add sugars and spices, tossing together until apples are well coated. Set aside for 45 mins.
Defrost a sheet of carême puff pastry and preheat the oven to 180 degrees.
Spoon the apple mix into a pie dish, and throw in a cup of frozen blueberries and a few springs of thyme.
Cover with puff pastry, pushing the edges gently into the side of the pie dish. Pierce a few holes into the top with a fork.
Brush top with a beaten egg, and then sprinkle over more raw sugar.
Bake for 45 mins or until the pastry is golden and flaky.
Remove from the oven and let sit for about 15 minutes, so the juices aren't too runny.
Eat as-is, or à la mode by topping it off with a delicious scope of vanilla ice cream!