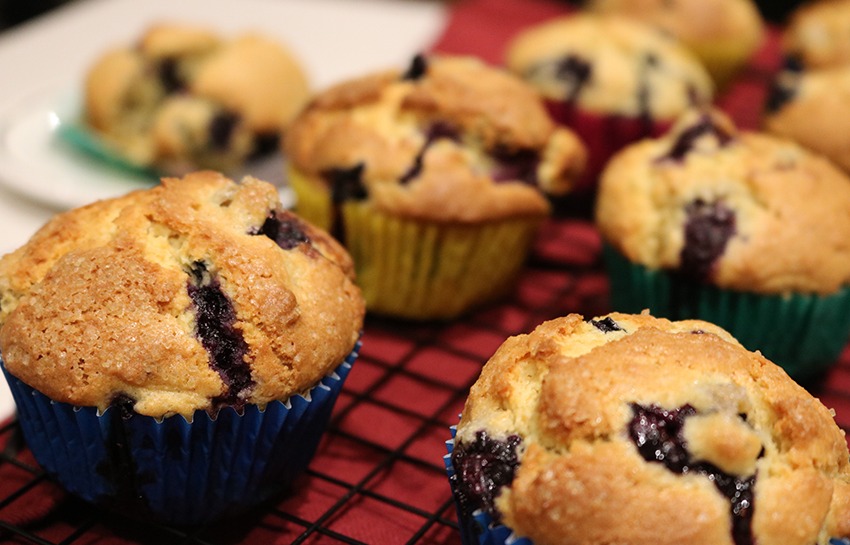 Blueberry Muffins
In Australia,
We're blessed with all year round production of most fruits & veggies.
There are some lines of course,
Like stone fruits…
That we only see in summer!
And there are others…
Like blueberries,
That we do see virtually all year round,
But…
Their price & quality can fluctuate immensely!
Right now,
It's a time of the year when blueberries are just fabulous!
Our blueberries come from northern NSW…
As do most blueberries this time of year…
And they're sweet, crunchy & full of flavour.
They are also really good value,
So that's why Joe picked them for this week's pick of the week!
What to make with them was a bit of a challenge,
As I prefer mine "as is" or simply washed and thrown in a salad.
I considered making a tart with the blueberries…
But having made a few cakes & tarts already this year,
I eventually opted for a more humble muffin.
Now we've got a rule at home that if the kids want a treat,
That's fine…
But we prefer it to be home made.
We got the kids involved with making the muffins,
And although that meant a little more mess,
It was also valuable bonding time for mum & the kiddies!
Dad (that's me!) had fallen asleep by the time they were out of the oven…
So I had one this morning with my morning coffee.
I confess that muffins aren't my best friend…
But the fresh blueberries in these little bundles of sweet goodness were just amazing!
Muffins may not be the healthiest brunch in the world…
And I'm not saying that I've converted to the muffin side…
But I admit they are simple, delicious and worth a go,
Whilst blueberries are as sensational as they are right now!
The only thing left to say, is…
Buon appetito
– – – – – – – – – –
Ingredients
1 ¾ cup plain flour
½ cup almond meal
1 tbsp baking powder
1 tsp salt
120g butter
½ cup caster sugar
¼ cup brown sugar
2 large eggs
1 ½ tsp vanilla extract
½ cup milk
2 x 125g punnets blueberries
2 tbsp raw sugar
Method
Pre heat oven to 180°C.
Put muffin cases in a 12 muffin tin tray.
In a bowl combine flour, almond meal, baking powder and salt and mix to combine.
In a mixing bowl add the butter and sugars and beat with an electric mixer until nice and fluffy.
Add the eggs one at a time and beat until combined.
Add the vanilla extract and the milk and beat until combined.
Fold the dry ingredients into the wet ingredients with a spoon until evenly combined.
Dust the blueberries in some flour (so that they don't sink to the bottom of the muffins) and fold them through the mix.
Spoon even amounts into your muffin cases in the muffin tin, sprinkle with raw sugar and cook for 30 minutes.