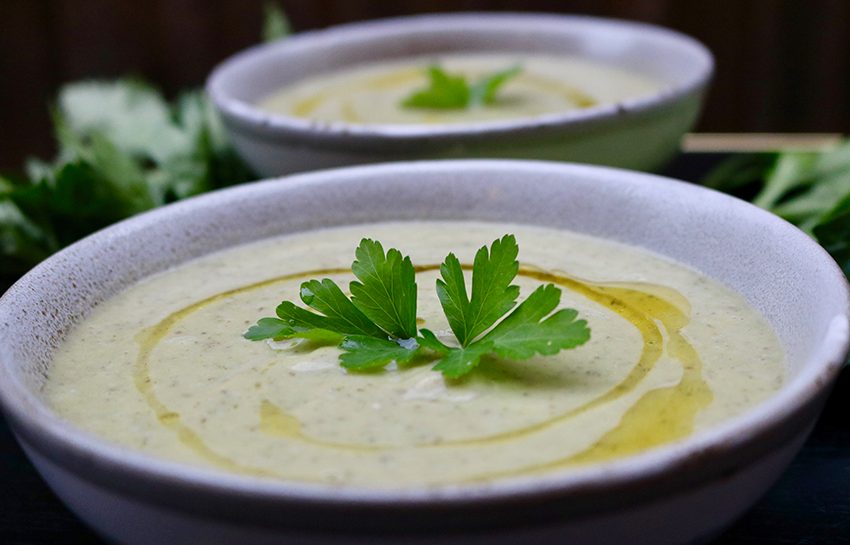 Celery Soup
We all know Melbourne's Mornington Peninsula is known for its gorgeous beaches.
It's made a name for itself when it comes to wines.
And food, wonderful food…
It really is a foodie's paradise.
But did you know…
It's also home to some of the best veggie farms in the whole of Victoria?
If not Australia!
Greens thrive in cooler climates,
And veggies like broccoli…
Kale…
And spinach are some of the Peninsula's best kept secrets.
As is celery,
This week's pick of the week.
But what do you do with celery other than juice it,
Or maybe use in a salad or fricassee?
Soup of course!
This week,
I really wanted to do something different…
Not just for my lovely readers…
But also for our family…
Because celery is one of those foods that we kind of eat almost every day…
Or should I say drink…
In our almost daily,
Morning green juice.
So I took inspiration from the lovely green colour of our morning juice…
Added some potato for creaminess…
And some French lentils for heartiness.
You probably already know that…
French lentils are actually a type of green lentil.
A little darker in colour…
And much smaller in size,
Being around a third of the size of regular green varieties.
One of the first things I noticed as I devoured my first couple of spoons of my celery, lentil & potato soup…
Was the pepperiness!
I initially thought I might have over seasoned,
But after having a chat about it with my better half…
She clarified it was likely because both celery and French lentils are peppery in flavour.
I did enjoy it as I continued to ravage my bowl…
Sourdough in one hand,
Spoon in the other…
But for those wanting a milder and perhaps sweeter flavour profile,
I suppose you could opt for a regular green lentil.
We served hot,
With a drizzle of olive oil and some parsley for garnish…
And I could see how a dollop of sour crème…
Or yoghurt,
Would work well too.
Perhaps some shaved Parmesan for some extra bite!
Loads of bread,
Big pot on a wooden board in the centre of the table,
Ladle at the ready…
Happy family all round.
That's all from me.
All that's lefty to say now is..
Buon appetito!
– – – – – – – – – –
Ingredients
1 head celery
1 large brown onion diced
2 garlic cloves chopped
2 small Dutch creams diced
½ cup French green lentils
¾ cup chopped parsley
1 bay leaf
¼ cup olive oil
4 cups vegetable stock
Water
Sea salt & cracked pepper
Method
Cut the leaves from the celery stalks and wash and chop the stalks into pieces, then set them aside. Don't discard the leaves. They can be kept and used for stock or for juicing.
Put the lentils in a small pot and bring to the boil. Once they've come to the boil, remove them from the heat, strain them and set them aside.
In a large pot, heat the olive oil and sauté the onion until it is translucent. Add the garlic and cook it until you smell the garlic, about 1 minute.
Add the potatoes and the celery and stir for about a minute. Add the stock and some extra water to cover the ingredients.
Add the bay leaf, lentils and season with salt and pepper. Taste it before seasoning because sometimes stock can already have enough salt.
Bring it to the boil and then reduce it to a simmer and cook covered for 20 minutes.
Remove it from the heat and stir in the parsley.
Allow it to cool completely. The mixture must be cooled completely before the next stage to avoid it exploding from the heat.
Once it has cooled completely, remove the bay leaf, and then blitz it in a blender until smooth. You may have to do it in batches.
Reheat and serve with some crusty bread.