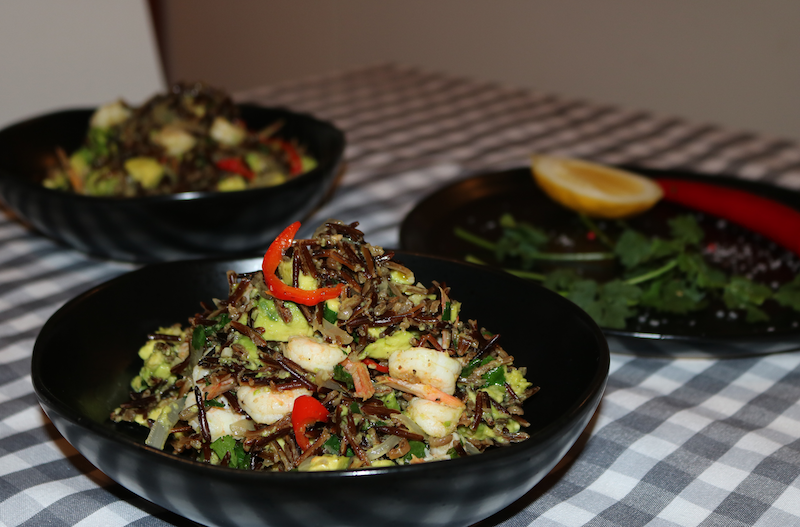 Avocado Prawn & Wild Rice
Serves 3-4
INGREDIENTS
200g cold Wild Rice, cooked as per instructions on the pack
250g uncooked, shelled & deveined, Prawns' tails on
2 Ripe Avocados
1 large Hot Red Chilli sliced diagonally (remove the seeds if you prefer less heat)
1 Red Onion thinly sliced
1 cup Coriander leaves coarsely chopped (reserve some for garnish)
2 Garlic cloves chopped finely
1 Lemon juiced
Good quality extra virgin Olive Oil
Sea Salt & Cracked Pepper
METHOD
Marinate the prawns in olive oil, garlic & fresh chili for 20-30 minutes.
Peel, seed & chop the avocados coarsely. In a small bowl, season avocado lightly with salt, pepper & the lemon juice. Gently fold through the avocado. (We want to retain shape without being too fussy). Set aside for later use.
Heat a little oil in a wok and sauté the onion until translucent.
Add the marinated prawns to the wok.
Cook prawns 1-2 minutes or until they are cooked through (time will vary depending on the size of your prawns).
Remove the prawns from the wok & set aside in a bowl.
Add the cooked wild rice to the wok until re-heated and season lightly. If the wok is dry, you can add a drizzle of olive oil.
Remove the wok from the heat and add the prawn mix to the rice. Toss until evenly throughout the rice.
Add the coriander and avocado. Gently fold through.
Serve seasoned with sea salt and cracked pepper. Garnish with some extra fresh coriander.
Enjoy!