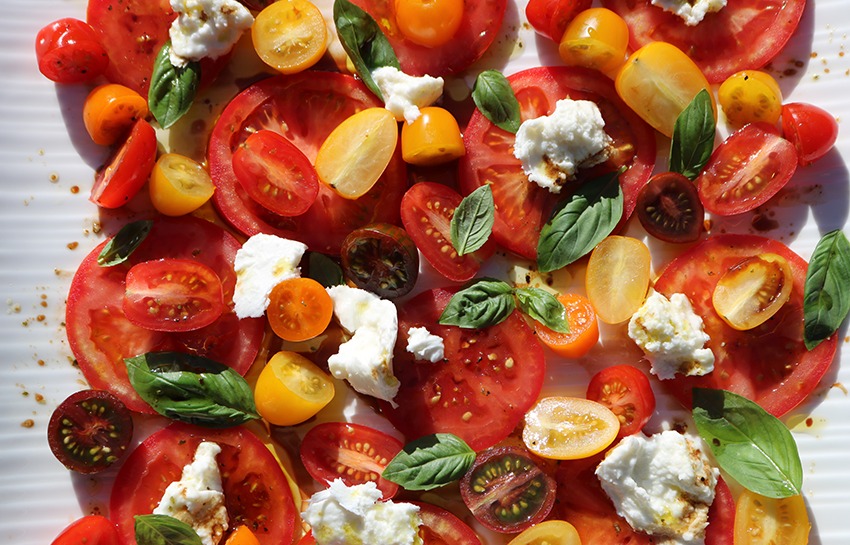 Caprese Salad
If you ask an Italian nona…
Aka grandma…
And likely master cook of all foods Italian…
From the famous Island for the stars, Capri…
When she eat tomatoes,
She'll no doubt answer…
"In summer of course!"
Not spring…
Not Autumn and…
Definitely not winter!
Why?
Because tomatoes are a summer fruit…
And…
They taste their absolute best in the peak of summer!
Correct!
Right Now for us Melbournians!
And that's why I've used Joe's pick of the week…
Assorted (peak season) tomatoes…
Simply combined with beautiful basil & buffalo mozzarella…
And topped with premium, cold-pressed olive oil & balsamic vinegar,
In this week's Foodie Fridays recipe of the week…
Caprese Salad!
Named after the island of Capri where it is thought to have originated…
Simply add very crusty, fresh, sourdough bread…
Like the dark rye from our Noisette range and…
A crisp and summer Italian wine…
Like a Rose…
And you have the ultimate summer brunch or supper!
Without the cost of a flight to Capri!
Keep the change & enjoy.
Or as we say in Italian…
Buon Appetito!
– – – – – – – – – –
Ingredients
2 Doncaster tomatoes cut into slices
250g punnet mixed cherry tomatoes cut in halves
15 small basil leaves
70g buffalo mozzarella
3 tbsp olive oil
1 ½ tbsp balsamic vinegar
Salt flakes
Crakes pepper
Dried oregano
Method
Arrange Doncaster tomato slices on a platter.
Add the cherry tomatoes over and around the slices.
Tear the mozzarella into pieces and arrange on the platter.
Add the basil leaves artistically over the top.
In a small jar combine the olive oil, balsamic and oregano and shake well.
Delicately poor over the salad.
Season with salt and pepper.