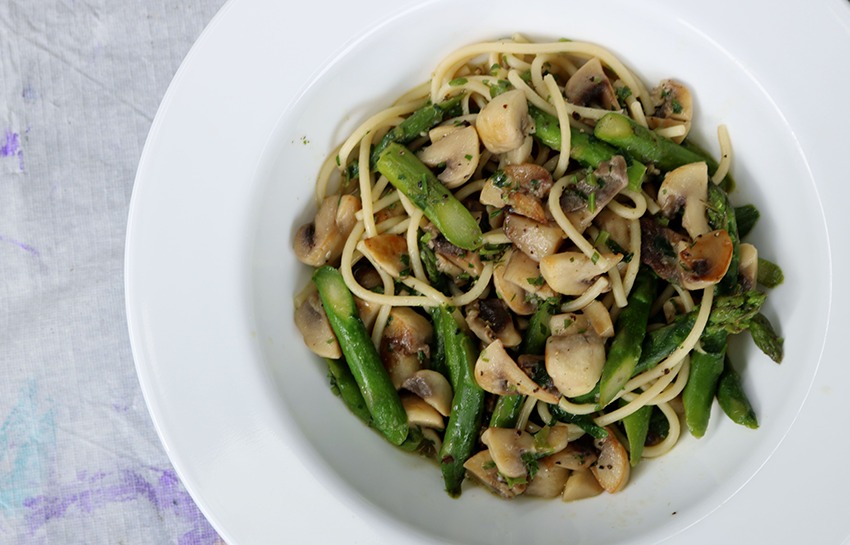 Asparagus & Mushroom Pasta
Spring is just around the corner,
And even though Antarctic winds are upon us Melbournians,
There was some beautiful sunshine earlier on this week.
It kind of inspired me to put together this dish,
Which I'd normally save for the brighter days,
But with fresh, crisp, sweet & gorgeous…
New season Victorian asparagus back on our shelves,
I just had to give them a try.
What a treat!
Combined with swiss cup mushrooms,
Garlic, parsley and olive oil,
The asparagus simply shone.
As sweet & crunchy as I've ever tasted them.
Because I'm on a two week vegan fast,
I was concerned that the no cheese, cream or butter…
Might take away from the flavour.
That wasn't the case!
Lots of good quality olive oil,
Fragrant and flavour packed aussie garlic,
And amazing fresh asparagus,
Was all that was needed for simplicity to become spectacular!
If you've had a busy day…
And you just feel like something simple to turn to,
Look no further than this week's recipe of the week.
It's quick, it's easy and it's simply delicious!
Buon appetito!
– – – – – – – – – –
Ingredients
500 grams mushrooms, cleaned and chopped coarsely
4 bunches Victorian asparagus, ends off and washed, sliced in diagonal thirds
1 packet 500gm best quality pasta, cooked as per packet less one minute
3 garlic cloves crushed
½ cup chopped parsley
olive oil, murray river salt, cracked pepper
grated grana optional
Method
Boil pasta as per instructions on packets. Reserve 2 cup of the hot pasta water for later.
Whilst the pasta is boiling, sauté garlic in extra large pot or wok until smell is filling room. Add mushrooms and sauté. Once they start changing color, add the asparagus and sauté for a further 2-3 minutes. Season with some salt & pepper.
In the meantime, the pasta should have boiled. Remove the pasta from the water and add it and most of the parsley to the asparagus & mushroom mix along with 1 cup of the reserved water. Add extra water if desired. Mix gently with some tongs until all ingredients are evenly combined. Season to taste.
Serve with some of the reserved parsley and a drizzle of olive oil.
And by all means lots of good quality grated parmesan too.
Enjoy.