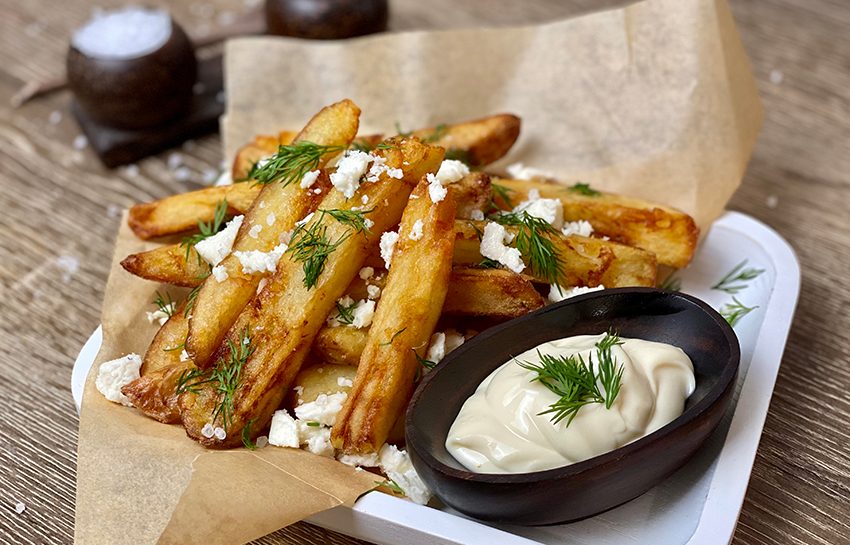 Twice-Cooked Homemade Chips with Dill and Feta
Perfectly cooked chips are a delight to eat!
To ensure they're crunchy on the outside and fluffy in the middle, we cook them twice!
Cut them thick, par-boil them, and place them in the fridge over night to dry them out for the best results.
We've used Desiree potatoes because they're a great all-rounder and they don't fall apart when you cook them.
If you have time for one more step, after boiling and drying them out, fry them in 150°C oil for about 3 mins, then drain and cool again for a couple of hours.
– – – – – – – – – –
Ingredients
1 kg potatoes, cut into thick chips
2 cloves garlic
6 pepper corns
5 cm piece feta
1 tbsp dill
Coarse salt
Method
Place potatoes in a saucepan with cold water, lots of salt, peppercorns and garlic and bring to the boil
Cook for 3 mins, drain, allow to cool. Place in the fridge for a few hours or over night to dry out
Heat oil in a deep fryer or a deep saucepan to 190°C and fry until golden and crisp
Drain well, season with salt and pepper and garnish with feta and dill
Serve with your favourite mayo!