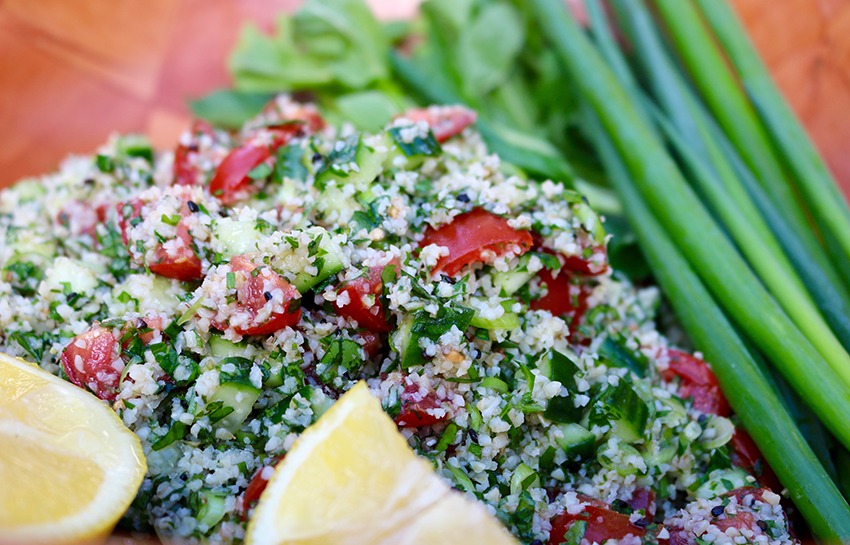 Tabbouleh Salad
Paris of the Middle East,
Is the name often given to Beirut,
The modern-day capital of Lebanon.
Like Paris,
Beirut is famous for art, fashion & food.
A Mediterranean city where tradition and modernity fuse,
Creating a playground for locals and tourists alike!
The city of Geelong,
On Victoria's Bellarine Peninsula…
Is about as far away from Lebanon as you can get…
But it's in Geelong,
Where some of Victoria's…
If not Australia's…
Best Lebanese cucumbers are growing right now!
I thought what better way to use Joe's pick of the week,
Lebanese Cucumbers,
Than by paying homage to Lebanon's national dish,
Tabbouleh!
There's no hard and fast rule on how to put this classic salad together…
But traditionally,
The Lebanese would combine cracked wheat (or bulgur),
With gorgeous seasonal tomatoes,
Fresh chopped herbs like mint, parsley & spring onion…
And top off with a good dose of Mediterranean favourites,
Olive oil, lemon, salt & pepper.
Funnily enough,
There's no mention of cucumbers in the classic take…
Lebanese or otherwise,
But that hasn't stopped us from adding them in our version,
Giving some fabulous crunch to our Tabouleh!
For even more crunch,
We decided to throw in a some black sesame seeds,
Which also gives the salad a great pop of colour…
And if I had them,
I likely would have added some chopped almonds,
Not that the salad isn't great without them.
In many a Middle Eastern household,
Tabbouleh is served up as a salad with grilled meats…
Or as one of many share plates in a traditional feast.
In our home,
We love it as a salad,
We love it as a side…
And we also love Tabbouleh as lunch the next day!
You can add it to your BBQs, dinner parties, lunches and picnics…
It's simple to make.
It's full of flavour.
It's healthy as can be.
And right now,
With summer upon us,
It's the perfect time for Tabbouleh to be on your menu too!
All that's left to say is
Shahiat Jayida…
Which I belive is Arabic for…
Buon Appetito!
– – – – – – – – – –
Ingredients
2 lebanese cucumbers diced small
275g punnet baby roma truss tomatoes chopped
1 bunch spring onions, whites only, sliced finely
1 cup mint chopped finely
4 cups parsley chopped finely
1 cup fine bulgar cooked as per packed instructions
2 tsp black sesame
2 tbsp olive oil
Juice of half a large lemon
Sea salt
Cracked pepper
Method
In a large bowl, combine the bulgar, mint, parsley, cucumber, tomato, spring onion and black sesame and toss to evenly mix.
In a jar add the lemon juice, olive oil and some salt and pepper to taste. Give it a shake and then pour over the salad.
Toss well to combine the flavours. Taste and season with more salt and pepper if required.