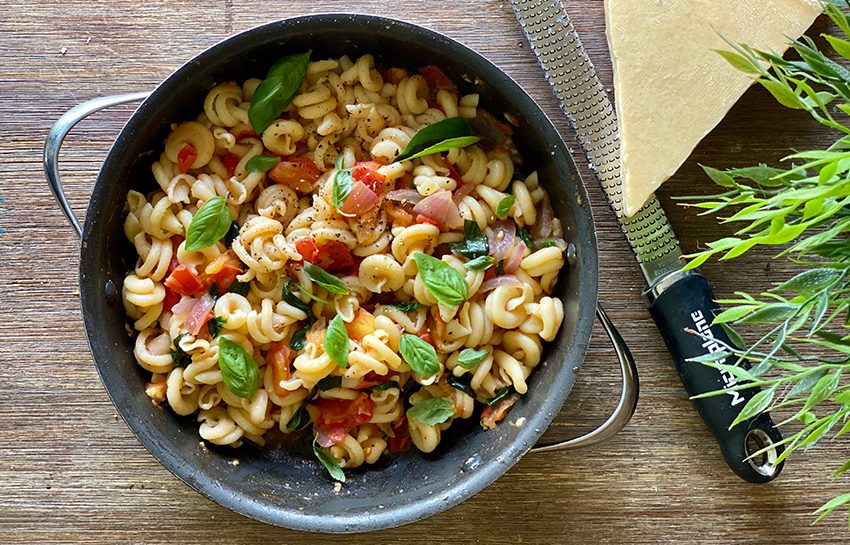 Simple Fresh Tomato Pasta
My kids absolutely love the shape of this Otway Pasta Company Torchino.
Okay, well, I do too….
Using different shaped pasta is a great way to add interest and fun to your pasta night.
This is one of the fastest and freshest pasta dishes you will ever cook!
– – – – – – – – – –
Serves 4-5
Ingredients
1 pack Otway Pasta Company Torchino
2 tbsp Olive oil
1 small onion, chopped
4 Doncaster Tomatoes, roughly chopped
2 cloves garlic, chopped
Salt & Pepper
Fresh Basil leaves, torn
Parmesan cheese, grated or shaved
Method
Bring a large pot of salted water to the boil and add the pasta. Cook as per packet instructions.
Meanwhile, heat a frypan over medium heat and add olive oil.
Add the onions to the pan with a big pinch of salt and sauté for about 2 minutes.
Add the garlic and sauté for a minute.
Add tomatoes and freshly cracked pepper and sauté until the tomatoes start to soften.
Add torn basil leaves.
Reserve a cup of pasta water, drain pasta and add to the tomatoes.
Stir to combine, check for seasoning and adjust if needed.
Divide between bowls and top with more fresh basil and Parmesan cheese.