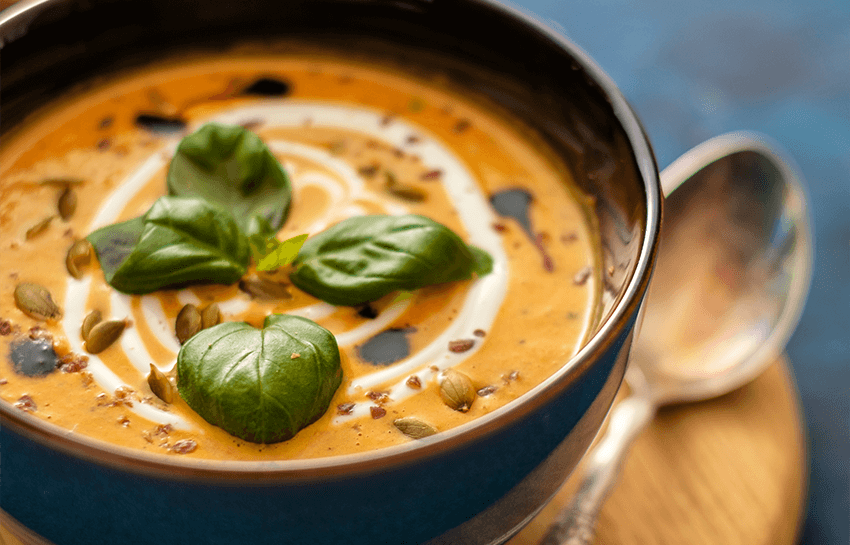 Roasted Sweet Potato and Pumpkin Soup
This soup is easy to make, full of flavour, and the perfect fall comfort food!
Roasting the veggies brings out their sweetness and adds to the velvety texture when blended.
– – – – – – – – – –
Serves 8
Ingredients
250g sweet potatoes, peeled and cut into 6 cm chunks
200g pumpkin, cut into 6 cm pieces
1 large carrot, peeled and cut into 6 pieces
1 brown onion, roots removed
2 cloves garlic, peeled
4 c water or stock
Salt & pepper to taste
Herb Bouquet Garni
½ c cream
Method
Place all ingredients in a stockpot and pour in enough water or stock to almost cover the veggies.
Pop on a lid and bring to boil. Turn heat to low and simmer until veggies are soft.
If there is still a lot of water in the pot and the soup might be too runny, pour off a little liquid and reserve it just in case you need to add it back in later.
Discard the onion and herbs, and then blend with a stick blender or in a blender.
Season with salt and pepper to taste and drizzle in some cream if desired.