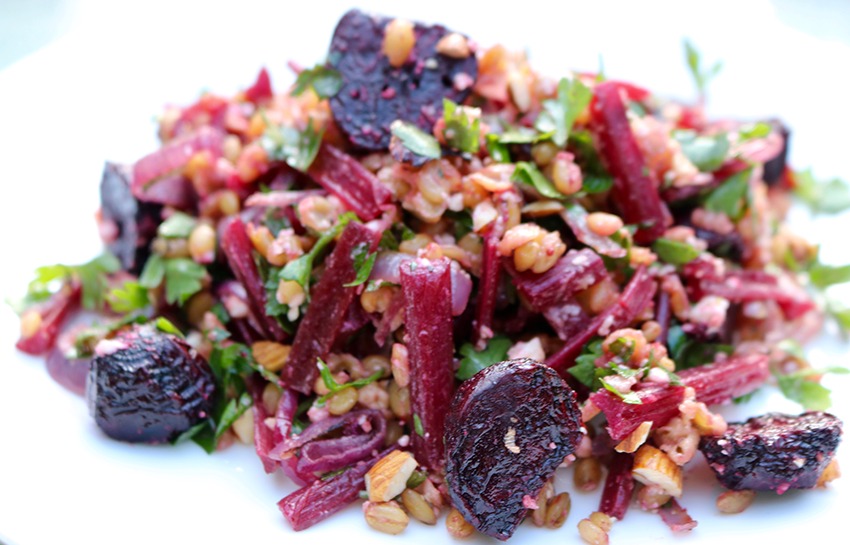 Roasted Baby Beets & Freekeh Salad
I know that we're on winner with recipe of the week when….
One…
The meal looks as good as this one does!
Two…
The meal tastes as good as this one does and…
Three…
I've eaten lunch around an hour or so before cooking this dish and…
During the tasting of the dish…
I manage to eat my way through the entire serve that I've plated for the photo shoot!
The roasted beets are the star of the show for sure!
Nutty, sweet & meaty in texture!
And the co-stars do the show proud too…
Sweet and caramelized roasted onions offering a gorgeous compliment…
As do the beet stalks.
Water chestnut-like in texture, more subtle than the beets in flavour yet delicious in their own right!
The freekeh adds body, it's own nuttiness and two or three levels of texture of it's own.
And the parsley the necessary burst of color & freshness.
Snap, crackle and pop…
With beautiful acidity from the balsamic vinegar to round off what was one of my favourite dishes of 2018.
We trust you'll enjoy our roasted baby beets & freekeh salad as much as we did.
Buon appetito…
– – – – – – – – – –
Serves 2-3
Ingredients
1 bunch beetroot (around 9 small/medium bulbs) with stalks
1 red onion sliced
1 cup cooked freekeh (cooked to packet instructions)
2/3 cup parsley chopped
60g feta crumbled
20 almonds chopped
½ to 1 tbsp balsamic vinegar (red wine vinegar or lemon will do also)
Olive oil
Sea salt
Cracked pepper
Method
Pre-heat the oven to 200°C.
Trim the stalks from the beetroot, wash them then set them aside.
Peel the beetroot and cut into same size pieces so that they roast evenly.
On baking paper on an oven tray, place the beetroot and drizzle with olive oil. Season with salt & pepper and roast in the oven for 35 minutes or until you can easily put a fork through the beetroot. I also like to turn over the beetroot half way through the cooking time.
While the beetroot is roasting, in a bowl season the onion with salt and drizzle with some olive oil and toss. When there are around ten minutes left for the beetroot to finish cooking, add the onion to the tray for the last ten minutes cooking time. Remove from oven and set aside.
In a medium pot bring salted water to the boil. Once it has come to the boil, add the beetroot stalks and cook for 3 minutes. Drain and set aside.
In a large bowl add all the ingredients beetroot, freekeh, stalks, onion, parsley, feta and almonds. Drizzle 1-2 tablespoons olive oil, balsamic vinegar and season with salt and pepper.
Give a good toss to combine everything evenly then put in a serving bowl & serve!!