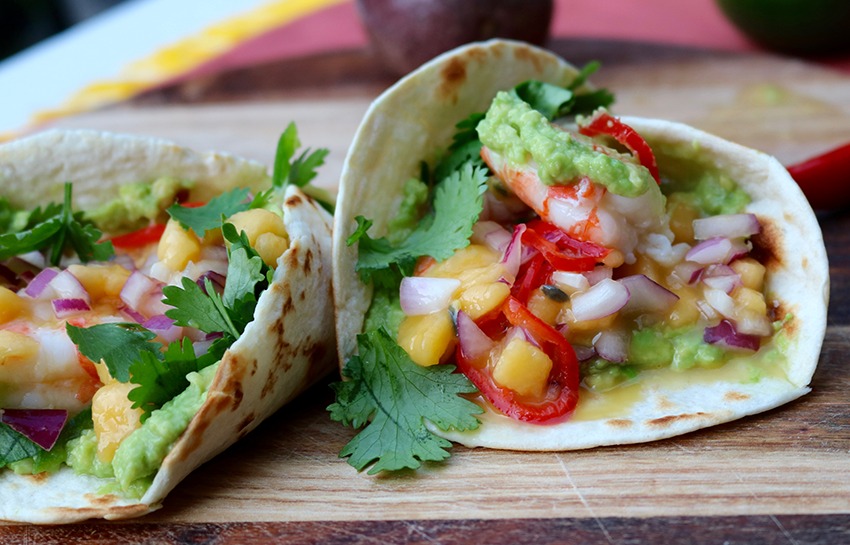 Prawn Tacos With Passion Fruit Salsa
Tortilla, protein & salsa!
They're the 3 things you need to make yourself a taco…
Or so they say on episode 4 (or maybe 5) of the Netflix cooking series, "Final Table".
For those of you who aren't familiar with the series…
It's basically a knockout tournament style cooking show…
Featuring lots of Michellin & other top rated chefs from around the world…
Cooking up food each week from all over the world.
If I have to summarise the show…
Some pretty amazing dishes,
In a weird format,
That kind of appears rigged if you watch through to the final table!
Anyways…
There's a chef that's renowned for cooking some of the best tacos in the world…
And that's where much of my inspiration for this dish comes from.
You'll notice that I've added the word "rapido" to my version.
Literally Spanish for "quick".
These are rapido tacos because all you really need to make is the salsa.
Tortillas are simple.
Buy yourself some good quality soft shell tacos and….
Prepare as per instructions on pack.
I go for dry frying personally as I cringe at the thought of using a microwave.
But each to their own!
And for the protein…
I had asked for some prawns but failed to mention I preferred the green variety.
So when I opened up the bag from the fish mongers…
I found that cooked prawns were now on the menu!
You could…
And probably should go for green prawns.
Char them up on the grill or…
Even better…
On the BBQ.
This will give your prawns some smokiness and extra texture & color too!
So the salsa.
An orgy of seasonal tropical fruit.
Passionfruit…
Tart, sweet, gorgeous in color.
Mango…
Ideally a green mango for more tartness, or otherwise, pick mango that's under ripe to avoid it being too sweet.
Chilli & jalapeno.
For heat & color.
And some lime for acid and to balance out the heat and the sweet!
Coriander gives the taco freshness &…
I've added some avo/guac.
Not a must, but I reckon it's a worthy addition.
Quick, simple, tasty & a summer special that you can prepare as a meal or….
An easy entertainer for your summer parties!
Buon appetito
Or as they say in Spanish…
Buen apetito!
Same same, but different!
– – – – – – – – – –
Rapido Soft Shell Prawn Tacos With Passion Fruit, Mango, Chilli & Lime Salsa
Makes 8-10 Tacos
Ingredients
6 passion fruit
1 medium red onion diced
1 jalapeno sliced
1 long red chilli sliced
1 mango diced
1 avocado
500g cooked prawns, shells removed and cleaned
10 small soft shell taco's
Juice of 1 ½ limes
½ bunch of coriander
Sea salt
Method
Cut the passion fruit in half and empty into a medium sieve, over a bowl, to seperate the pulp and seeds from the juice. Keep 2 teaspoons of seeds. Set aside the juice & seeds.
Cut the avocado in half and remove the pip. Scoop out the avocado into a bowl. Pour in the juice of 1 lime and add salt to taste then mix all together with a fork until you have a smooth dip. Set aside.
In a bowl combine the onion, jalapeno, chilli, mango, passion fruit juice, two teaspoons of the passion fruit seeds, juice of ½ a lime and season with salt.
Prepare the taco shells as per instructions on the packet.
When shells are ready, spread some avocado dip on the taco, add two prawns and the passion fruit/mango mixture, garnish with coriander leaves and serve.