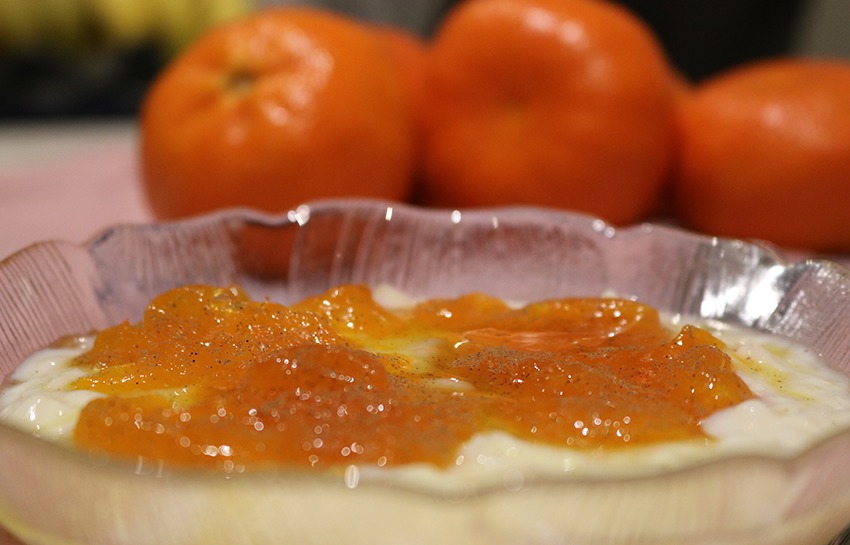 Rice Pudding with Candied Mandarin
Which dish…
Have you always eaten served the same way…
Since forever and a day?
Greek style rice pudding (rizogalo) is definitely one of those dishes for me!
It has always been served in a bowl…
With lots of cinnamon sprinkled on top.
That's how I ate it when I was a kid…
Because that's how my grandma and mum made it!
That's how I eat it when I make it…
Or when my wife makes it…
And it's how I've eaten it when I've bought it from a Greek cake shop,
Or at a tavern for desert.
But…
After over 40 years of the same…
Life as I know it changed today!
Rice pudding was served to me with candied mandarin!
I was apprehensive at first to say the least…
But after the first spoonful of creamy rice,
Combined with sweet and sour gooey mandarin hit my mouth…
I was in desert heaven!
It's sweet,
Despite the acid from the citrus,
So smaller serves would still get you your sweet fix.
I ate mine cold because I wasn't home when it was served hot…
But cold was just fine for me.
I'm looking forward to eating it again…
Mainly to see if it was the novelty which made it so good,
Or if indeed candied mandarin is good enough to change the way I eat rice pudding forever.
Buon apettito,
Or as the Greeks say,
Kali Oreksi!
– – – – – – – – – –
Ingredients for Rice Pudding
1 cup water
1 cup medium grain rice
1 cup sugar
2 litres full cream milk
1 tbsp vanilla powder
2 tbsp cornflour
1 cinnamon stick
Pinch of salt
Ingredients for Mandarin Compote
1 cup caster sugar
½ cup water
3 Afourer mandarins peeled, seperated
2 tbsp mandarin juice
½ vanilla bean, inside scraped out
Method for the Rice Pudding
In a jug combine 1 cup of milk, cornflour, sugar and the cinnamon stick and stir to combine well, then set aside.
In a medium size pot, combine the water, rice and a pinch of salt and cook over high heat until the water is absorbed.
Add in the remainder of the milk and bring to the boil, then reduce to a simmer for 30 minutes, stirring occasionally.
Increase heat to high for 3 minutes, stirring every minute for a bit.
Add the jug that was set aside earlier and once it has come to the boil again, in about 2-3 minutes, turn off the heat and leave it to cool a little and set.
Spoon into serving bowls and serve with a spoonful of candied mandarin and a sprinkle of cinnamon.
Method for the Candied Mandarin
In a small saucepan, dissolve the sugar in the water on a medium high heat. Cook, stirring, for about 15-20 minutes or until the liquid has reduced.
Add the mandarin, mandarin juice & vanilla bean and lower the heat. Stir well to combine and cook for another 2-3 minutes. Set aside to cool before serving on top of the rice pudding.