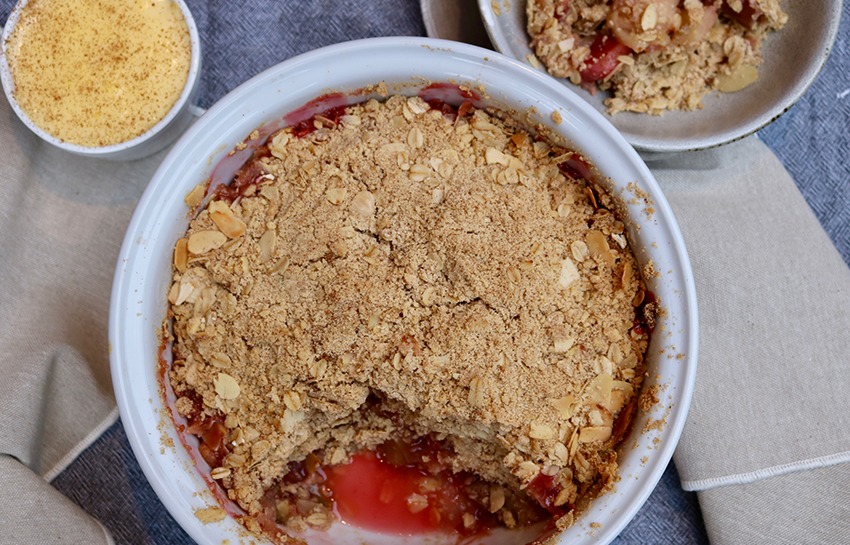 Rhubarb & Apple Crumble
I sometimes wonder…
Was it always this cold in Melbourne?
I'm an early bird you see,
And it's been on more than a few occasions that…
I've thrown on my thermals,
A pair of woollen Merino socks,
And a hat or even a beanie,
Before venturing out for my morning walks!
So when I got into the store this morning…
Top shelf that is…
And peak season rhubarb,
Was given the thumbs up,
As this week's pick of the week,
All I could imagine was getting stuck,
Into a piping hot crumble,
Before the day is out!
And that's exactly what happened.
It's just on 5 o'clock now,
And not even half an hour ago,
And less than 9 hours since I left the shop,
I was ploughing my fork,
Deep into a bowl of tangy rhubarb,
And sweet, new season pink lady apple!
Cooked of course,
For around an hour,
So when they came out of the oven,
The piping hot combination of stew-like apple and rhubarb,
Topped with the flaky almond, oat and spiced crumble,
And accompanied by some smooth,
Creamy and luscious custard,
Made my day complete!
I should be cooking dinner right now,
But I'm pretty content with what I just ate…
Or maybe I need just a little more crumble,
With a hot cup of tea,
Before the nights out,
So I don't wake up hungry in the middle of the night!
Not sure if that's going to go down well with the rest of the family…
I'll just have to deal with that, as I sip on my cuppa.
All that's left to say now is…
Buon appetito!
– – – – – – – – – –
Ingredients for the Filling
1 bunch rhubarb
2 large sweet red apples (like pink ladies)
½ cup caster sugar
1 tbsp cornflour
Ingredients for the Crumble
1 ½ cups plain flour
100g salted butter
2 tbsp brown sugar
½ cup rolled oats
½ cup flaked almonds
2 tsp cinnamon
1 small piece of fresh ginger grated (10-20g)
Method
Pre-heat your oven to 160°C for fan forced ovens otherwise 180°C.
Cut the leaves off the rhubarb, then wash the stems and cut them into 4cm pieces.
Peel and core the apples and cut into slices.
Put the rhubarb and apples in a large bowl then add the sugar and cornflour and stir to combine evenly. Transfer the mix to an oven proof dish.
In another bowl sift the flour. Add the butter in pieces and using your hands mix them together until the mixture resembles bread crumbs. It's ok if the mix is a little lumpy.
Add the brown sugar, oats, almonds, cinnamon and ginger and mix together with the flour until it is evenly combined.
Cover the rhubarb mixture with the crumble and bake for 50 minutes.
Increase the oven temperature to 180°C and cook for a further 20 minutes or until nice and golden.
Serve with custard.