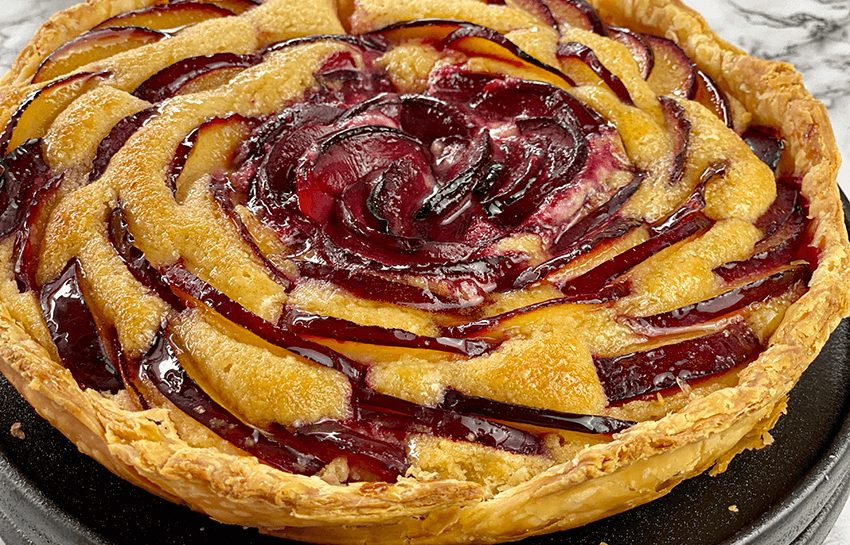 Plum & Frangipane Tart
Plums are just about to finish in Victoria, so we wanted to get one more plum bake in before they're gone for the year!
We've used red plums around the outsides of this tart and Queen Garnet plums in the centre for dramatic colour.
– – – – – – – – – –
Makes 1 24 cm tart
Ingredients
1 pack caremé shortcrust pastry, defrosted
115g butter, at room temp
100g caster sugar
Zest 1 lemon
2 large eggs
100g almond meal
60g plain flour
2 tsp vanilla extract
½ tsp salt
8 plums of choice, thinly sliced
2 Queen Garnet or blood plums, thinly sliced, if using
2 tbsp honey
Method
Preheat oven to 180°C.
Place defrosted pastry in a 24 cm tart tin or pie dish and push the pastry into the base and sides. Use a sharp knife to trim away excess pastry. Refrigerate for an hour or two.
Use a fork to prick the pastry base, then place a layer of baking paper in the base and pie weights or rice. Blind bake for 10 mins.
Remove paper and weights and bake for another 8 to 10 mins until golden. Remove from oven and allow to cool.
Meanwhile, make the frangipane filling.
Place butter, zest, and sugar in an electric stand mixer bowl and beat with the paddle attachment for 5 mins.
Add the eggs, beating between each addition.
Add vanilla, salt, almond meal and flour, and mix until combined.
Once the tart shell is cool, fill it with frangipane, and then it's time to add the plums.
Starting from the outside and working your way around in a circle, gently push the lighter coloured plum slices into the frangipane, making sure to lay down each slice so that it covers half of the slice before it.
Continue until you are left with about 4 to 5 cm in the middle, then start layering the dark plums in the centre closer together to create a flower-like pattern.
Return the tart to the oven and bake for 40 – 45 mins, or until the exposed frangipane is golden and cooked in the middle.
Melt honey in the microwave and brush over the tart.