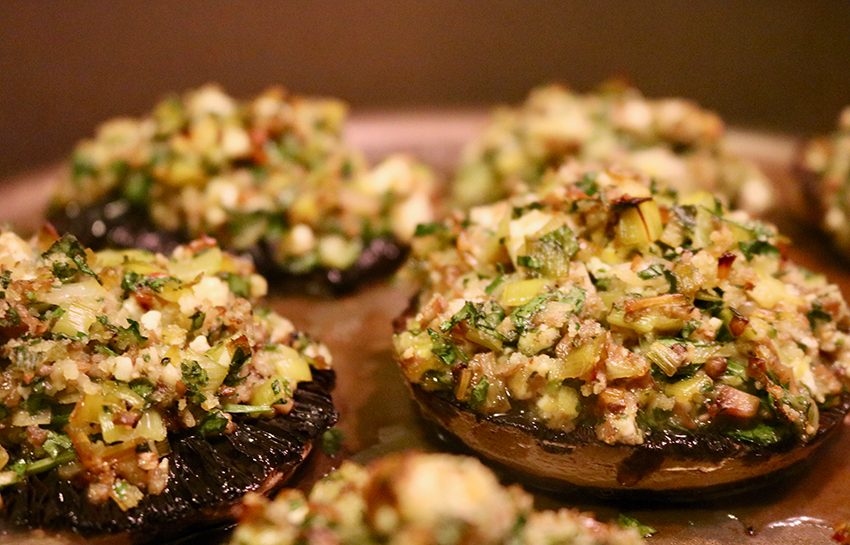 Leek & Feta Baked Mushrooms
I want my food to look good…
It's actually a must!
I want my food to taste good…
It's absolutely a must!
And I love it when my kitchen smells amazing,
When I'm preparing dinner.
I reckon it is now also a must!
I always knew that I enjoyed the way food smells,
There's something special about that anticipation of a meal,
When you can smell it half an hour before it's even ready!
This week,
That love for aromatics and kitchen smells came in abundance,
When I had sweet and fragrant leek frying away in my pan of olive oil,
Then added some garlic to the mix,
And then got all that yummy pan-fried leek and garlic goodness,
Into the oven,
On top of gorgeous swiss brown flat mushroom.
Feta added a lovely saltiness and creaminess to the mushrooms,
Whilst the parsley gave some much needed freshness,
To balance out some of the richness of the olive oil,
Garlic and leek combination.
I served the dish with some roasted sweet potato,
The sweetness perfect alongside the savoury mushrooms,
And a cabbage salad,
Dressed with you guessed it,
More olive oil and white wine vinegar…
For even more freshness,
And some acidity…
And there you have,
A simple, delicious and healthy meal,
Ready in around half an hour.
All that's left to say now is,
Buon appetito!
– – – – – – – – – –
Ingredients
8 Swiss brown flat mushrooms
1 leek, diced
3 cloves of garlic, chopped finely
100g feta, crumbled
½ bunch parsley, chopped finely
2 tbsp bread crumbs
Olive oil
Sea salt & Cracked pepper
Method
Pre-heat your oven to 180°C.
Cut the stems of the mushrooms. Arrange the mushrooms in an oven proof dish and set aside for later. Finely dice the mushrooms stems and set them aside also.
Cover the base of a frying pan in olive oil and on a medium-high heat, saute the leek.
Once the leek is translucent, add the garlic and cook for 1 minute.
Add the mushroom stems and cook for another 2-3 minutes. Season with salt and pepper to taste.
In a large bowl combine the feta, parsley, bread crumbs and the leek mixture and stir to combine evenly. Season some more if required.
Drizzle some olive oil over the mushrooms and then fill them with the mixture using a spoon.
Bake them in the oven for 25-30 minutes.