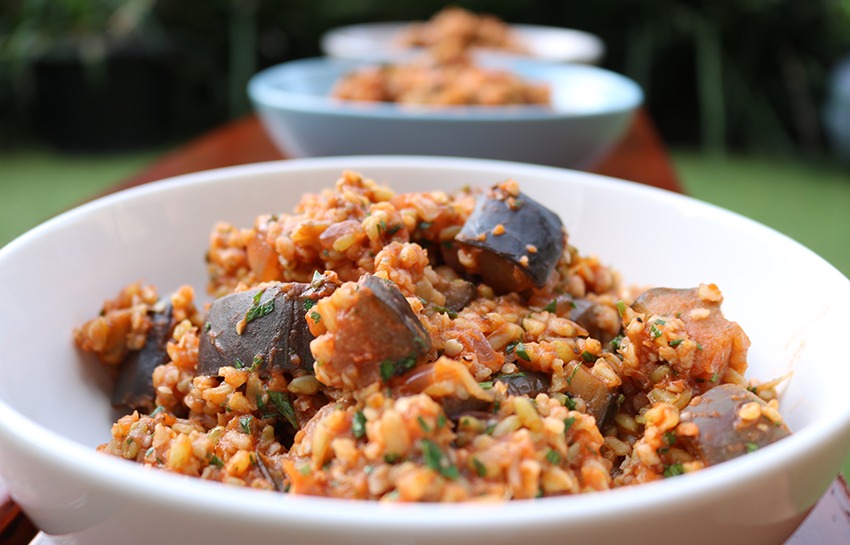 Freeky Eggplant Paella
Melenzana…
Aubergine…
Eggplant!
I don't know of any other vegetable…
That has as many names as…
The high gloss, curvy & exotic eggplant!
Now it wasn't necessarily my first pick at the green grocers in years gone by.
Can you guess why?
No?
Let me tell you.
I confess that I have been intimated somewhat by eggplant in the past.
Not anymore though…
All that's changed,
And I now look for the eggplant,
Especially in the period…
Between summer & autumn,
When Aussie eggplant are at their best.
I've gone for a first time attempt at a dish today.
I guess I would call it an eggplant paella.
Or to be more accurate to the Spanish heritage of paealla…
Paella berenjena!
But on my take of paella…
I've opted for freekeh in lieu of saffron rice…
And a tomato based (salsa de nona) sauce.
It's a simple, feel good, comfort dish…
Very European…
Yet very much at home,
In my suburban Melbourne backyard,
On a mild autumn night!
As it will be in your home…
Should you choose to go a little freeky with eggplant this autumn!
– – – – – – – – – –
Ingredients
1 cup freekeh cooked as per packet instructions
3 eggplants washed and cut into cubes
2 garlic cloves chopped finely
1 medium red onion diced finely
1 cup salsa de nonna (tomato passata)
1 cup water
1 cinnamon stick (Ceylon)
1 bay leaf
Sea salt
Cracked pepper
Chilli flakes
Olive oil
Method
Heat 2 tablespoons of olive oil in a heavy based casserole dish. Add eggplant and cook on high heat until cooked through. Ideally you'll get some char on the eggplant. Season with salt & pepper. Remove and set aside for later.
Add 2 more tablespoons of olive oil. Saute onion for 1 or 2 minutes. Add garlic for another minute. Add Passata, salt, pepper, chili flakes (optional) cinnamon stick, bay leaf & equal parts water. Cook on a medium simmer for 15-20 minutes or until sauce reduces to desired consistency.
Add back eggplant, freekeh & parsley. Combine well. Serve.
Tip: Keep some water handy as you may need to add some extra to keep sauce from over reducing!