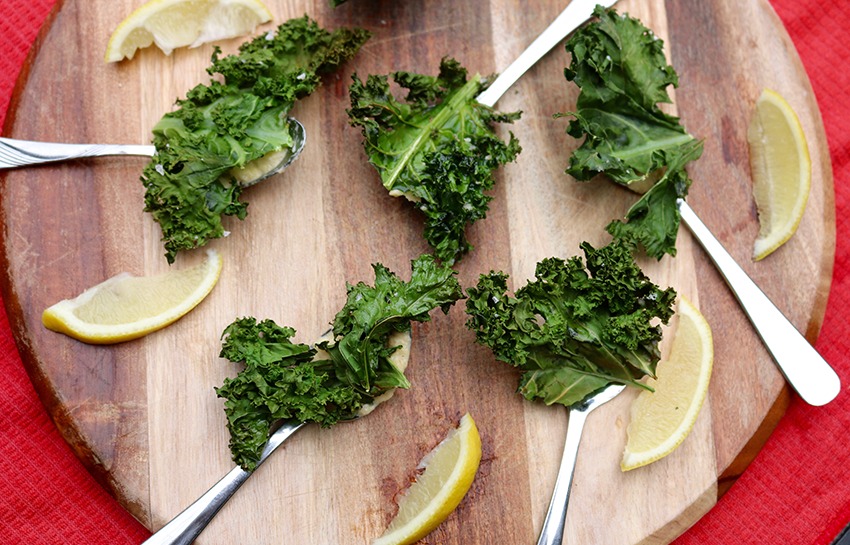 Crunchy Kale Chips & Hummus
Sometimes the dishes that appear the simplest …
Can often be the trickiest to get right!
I'm sure you'd agree with that?
Now I'd made "crispy" Kale chips at least 5 times not once getting them super crunchy.
That was then.
Since getting my kale chips right, they are "super crispy" every time…with a capital "C"!
But getting them crispy was only the first challenge.
Congrats to me!
But…
And here's the "BIG BUT"!
Because of their delicate crispiness…
Trying to eat each kale chip with hummus on your own…
Let alone in a group or party setting…
Without the kale chips just kinda crumbling when you try and scoop dip onto them is a challenge!!
So my solution I feel re-invents the way we eat the humble kale chip.
Serve the chip on a spoon.
And for the chip to stick onto the spoon…
Add a small amount of hummus, or whatever dip you're serving them with onto the spoon, so the chips have something to grip onto.
You're biggest problem will be finding enough spoons to go around…
Because all your party guests are gonna love them.
And before I forget,
Make sure you have lots of extra thin sliced, seedless lemon wedges…
Because the zesty sour lemon juice is just what's needed to finish off the perfect mouthful of goodness.
Against the crispy, slaty chip…
Combined with creamy, sweet hummus,
Now there may be chips left over because of the lack of spoons…
So for those, throw them into a bowl with a side dish of dip.
But my bet is that you'll probably gobble up all the extras before, serving and after prep…
Because they really are a simple, delicious and tasty treat.
Buon appetito…
– – – – – – – – – –
Ingredients for the Kale Chips
1 bunch kale
Olive oil
Sea salt
Cracked pepper
1 lemon cut into wedges
Method for the Kale Chips
Pre-heat oven to 170°C.
Chop the stems off the kale and cut the leaves into bite size pieces. Don't discard the stems. Keep the stems in an airtight container for another dish.
Wash the leaves thoroughly and dry completely in a salad spinner.
Line a baking tray with baking paper and arrange the kale leaves, curly side down, on the tray.
Make sure there is some room between the leaves. You don't want to overcrowd the tray because the kale won't get super crunchy if you do. I bake the one bunch of kale in two lots.
Spray the leaves very lightly with olive oil, season with salt and pepper and bake for around 12-15 minutes.
Serve with hummus and lemon wedges. Squeeze the lemon on just before you eat the chip so you don't make the leaves soggy.
Ingredients for the Hummus
1.5 cups drained cooked chickpeas (or canned chickpeas) liquid reserved
1 tbsp tahini
Juice of ½ a lemon
¼ cup olive oil
¼ cup water from boiling the chickpeas (if you use canned, water is fine)
1-2 garlic cloves crushed
Sea salt
Cracked pepper
Method for the Hummus
In a food processor add the chickpeas, tahini, half the lemon juice, oil, water, salt & pepper and blend until smooth or to whatever consistency you prefer.
Taste and if required add the rest of the lemon juice and blend through.