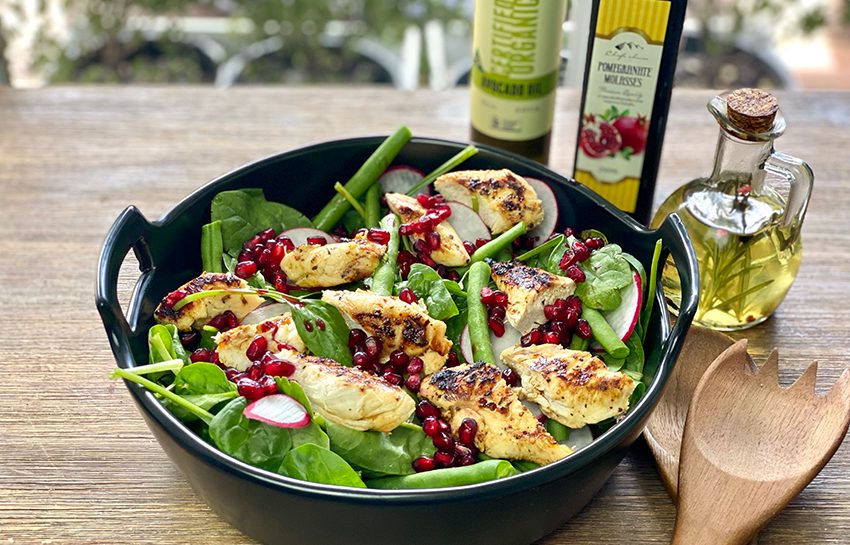 Chicken, Spinach and Pomegranate Salad
This is a fantastically fast and satisfying dinner or lunch.
If you have a bag of lemon pepper seasoning in the cupboard and some chicken tenders in the fridge, you will have a super-tasty meal on-hand for those last minute dinners.
We won't give you exact measurements on this one, just a rough idea per person. We usually serve three tenders per person.
– – – – – – – – – –
Ingredients
Chicken tenders
Olive oil
Lemon pepper seasoning
Juice of a lemon
Pinch of salt
A big handful baby spinach
A handful green beans, topped and tailed
½ pomegranate, seeds removed
3 radishes, thinly sliced
A splash of avocado or olive oil
A splash pomegranate molasses
Salt and pepper to taste
Method
Marinate chicken in olive oil, lemon pepper seasoning, lemon juice and a pinch of salt for 5 to 10 mins.
Heat a frypan over medium heat and fry chicken until just cooked. About 10 mins should do it.
Slice into bite sized pieces.
Meanwhile, place baby spinach, beans and radish on a platter. Add the chicken and pomegranate.
Drizzle over olive oil and pomegranate molasses, season with salt and pepper, and toss to combine.