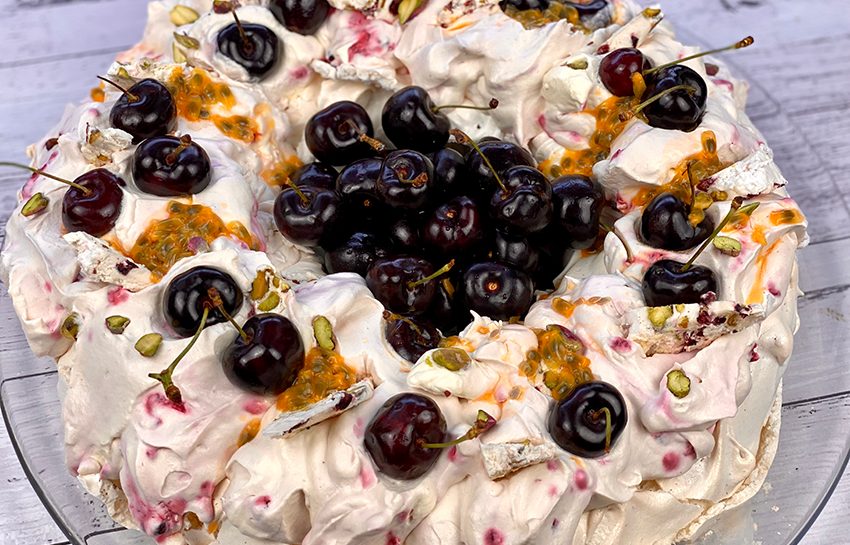 Cherry & Boysenberry Christmas Pavlova
This is one of those recipes that works every time!
It's a Nigella Lawson recipe that just isn't worth trying to make better.
It has a pillowy marshmallow centre and super crisp exterior.
Take your time whisking in the sugar, as that's what really makes the pav great.
The outside often cracks if you move it to another plate, but don't worry. You can't tell under all of the boysenberry-spiked cream.
Ingredients
8 egg whites
500g caster sugar
4 tsp corn flour
2 tsp white or red wine vinegar
½ tsp vanilla extract
200ml cream, whipped
1 punnet boysenberries
100g cherries
10cm piece nougat
2 passion fruit, pulp removed
Method
Preheat oven to 180°C
Beat the egg whites until silky peaks form.
Gradually add the sugar one tablespoon at a time; wait a few seconds before adding the next spoonful.
Once all of the sugar has been added, allow it to mix for another minute or so on high speed.
Add the cornflower, vinegar and vanilla, and fold through with a metal spoon.
Create a wreath circle of meringue on an oven tray lined with baking paper. Place in the oven, then turn the heat down to 120°C and bake for 55 mins.
Turn the oven off and leave pav to cool completely in the oven.
Mash boysenberries with a fork and fold through whipped cream.
Dollop the cream over the top of the pav and decorate with nougat, cherries and passion fruit pulp.