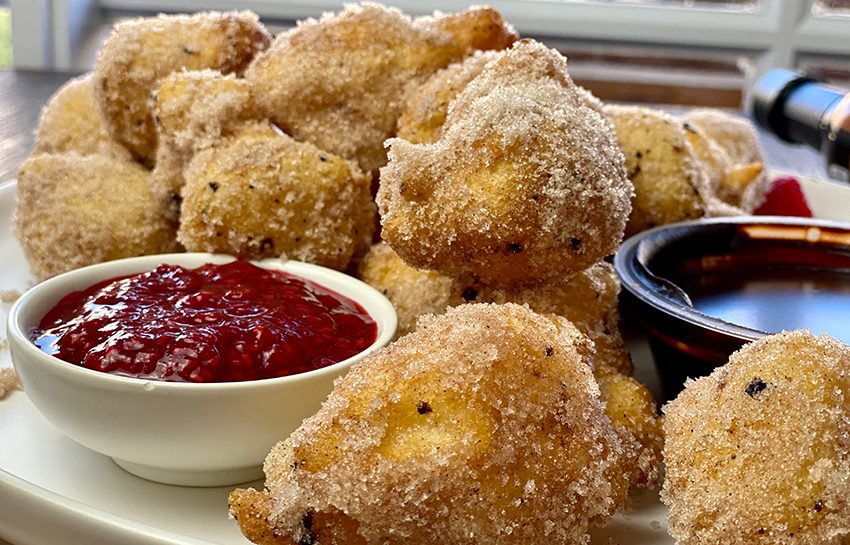 Bombolini with Chocolate Dipping Sauce & Raspberry Coulis
These little balls of dough are light and fluffy, but there is a problem with them that is hard to overcome. You Cannot Stop Eating Them!!!
This recipe is from an old friends Nona and is one of my favourites.
Heat the oil 180 degree. Any hotter and it's hard to cook the donuts all the way through before they colour too much.
A candy thermometer is really handy here. And you can get some cool multi function ones now that do everything from oil to meat.
Ingredients for the donuts
2 ½ cups plain flour
1 tsp salt
1 packet dried yeast
1/3 cup warm water
More warm water
1 ½ cups sugar
3 tsp ground cinnamon
Vegetable oil
Ingredients for the coulis
2 punnets fresh raspberries
3 tbsp sugar
A splash Verjuice
1 tub or bottle of Alice Langton's Chocolate sauce, to serve
Method
Combine flour and salt in a large bowl.
Add yeast to warm water in small bowl and mix together.
Add yeast mixture to the flour with more warm water and mix until it's reaches a thick pancake mixture consistency.
Cover with glad wrap and cover with a couple of tea towels for 1 hr.
Combine sugar and cinnamon in a bowl.
Add oil in a saucepan at least 5cm deep on high heat.
Stir mixture. Then, using 2 spoons, grab mixture with 1 and scrap into hot oil with the other. They should rise in a rough ball shape. Repeat until the saucepan is full.
Turn occasionally until light golden, remove from oil, and place in the sugar. Toss to coat.
To make the raspberry coulis:
Place raspberries, sugar and verjuice in a small saucepan and bring to a simmer.
Cook for 10 mins, stirring every minute, then turn off the heat and set aside.
Serve warm donuts with chocolate sauce and raspberry coulis.