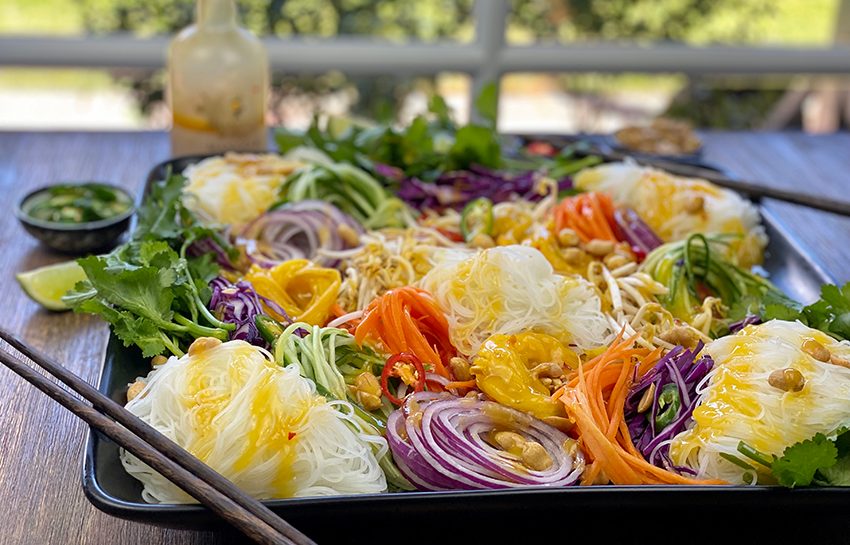 Thai-Style Noddle Salad with Mango and Sweet Chilli Dressing
The joy in eating this salad comes from the texture of the ingredients and how they are sliced; it really makes a difference in the end. So, take a few extra minutes to prep your veggies and fruit. We promise you it will be worth it!
If you don't have a v-slicer or julienne peeler, you can slice long ribbons with a peeler.
We've used a Yarra Valley Preserves Salad Splash for this recipe because it's a match made in heaven.
If you love things a little spicy leave the seeds in the chilli, if not, remove them.
– – – – – – – – – –
Serves 4 to 5
Ingredients
2 Lebanese cucumbers, julienned
1 green or normal mango, julienned
1 carrot, julienned
¼ bunch coriander
1 cup bean sprouts
1 Spanish onion, thinly sliced
½ punnet grape tomatoes
¼ small red cabbage, thinly sliced
1 red chilli, sliced on the angle
1 green chilli, sliced on the angle
½ cup peanuts
1 pack vermicelli rice noodles
Mango and sweet chilli salad splash
Method
Arrange the fresh produce on a serving platter or divide between 4 plates, leaving enough room to add the noodles.
Place noodles in a bowl, cover with boiling water, and let stand for 5 mins.
Use a fork to separate the noodles. Drain, rinse well in cold water, and drain thoroughly.
Place noodles on the plate with the salad.
Scatter over nuts and dress with the salad splash dressing.