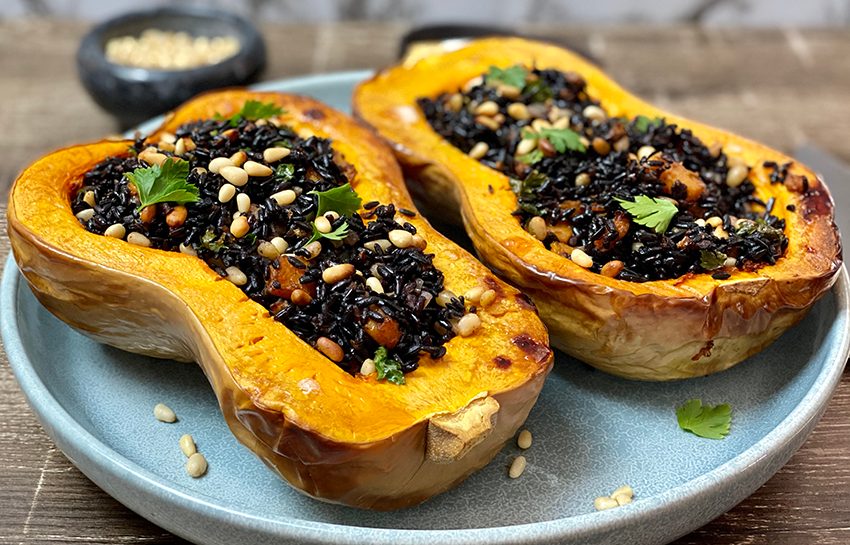 Baked Pumpkin with Black Rice
Black or forbidden rice is rich in antioxidants, full of protein, low GI and high in iron. If you've never tried it, give it a go. It turns a deep purple colour when cooked and looks fabulously dramatic!
Removing the flesh from the pumpkin isn't the easiest job, but it's well worth the effort.
Remove the seeds and fibres with a spoon, and then use a small sharp knife to cut a channel down the length of the pumpkin to spoon in the rice.
The easiest way is to cut out small blocks and use a spoon to work each cut. Dice the flesh into small cubes to mix through the rice.
– – – – – – – – – –
Ingredients
1 butternut pumpkin, cut in half and prepped as per above
1 c black rice
475ml vegetable stock
1 tbsp olive oil
Coarse salt
1 small onion, diced
3 cloves garlic, crushed
2 tbsp pine nuts, plus extra to garnish
Small handful parsley, to garnish
Method
Preheat oven to 180°C
Place the pumpkin on an oven tray and roast for 20 mins.
Place rice, stock and a good pinch of salt in a saucepan and bring to the boil
Reduce heat, cover and cook for about 18 mins. If there is liquid left in the pot drain, the rice though a sieve
Heat a small frypan over low heat and add olive, a pinch of salt and onion and sauté for a couple of mins
Add pumpkin, pine nuts and garlic and cook for 4 mins
Divide the rice between the pumpkins and bake for 20 to 25 mins
TIP: Keep an eye on the rice; black rice can dry out in the oven. If it does, cover it with foil for the rest of the cooking time.