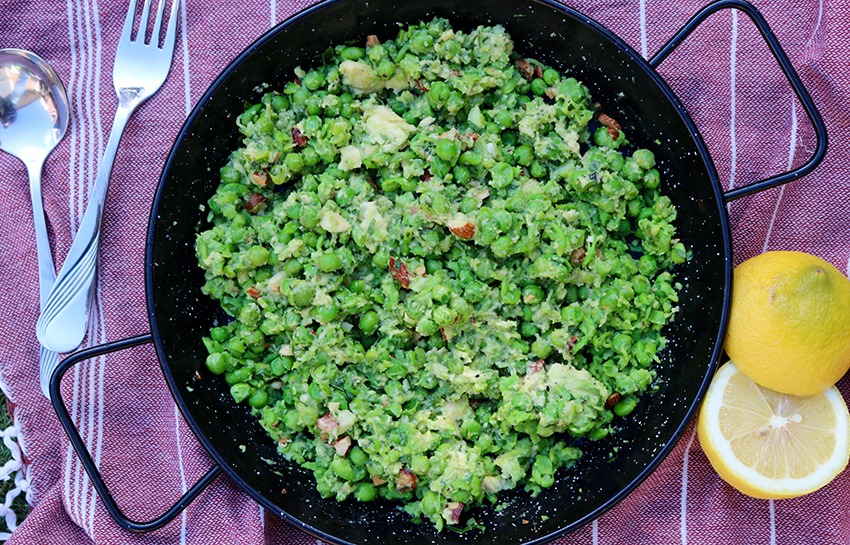 Avo, Grana & Pea Smash
A few months back,
One of our best friends popped over for lunch.
Nothing fancy,
Just a casual catch up.
Being casual…
We thought we'd have some lovely homemade meat pies….
And given the footy was on…
That's just what we do when we're watching at home anyway!
When it's just us…
Pies can be absolutely fine on their own.
But as a lunch with friends,
The pies were kinda missing that complete meal feeling!
We had some lovely potatoes that I was gonna make into chips,
But at the last minute,
We decided on mash!
Don't ask me why…
It sort of just happened.
As the potatoes were boiling,
I though that some boiled peas could make this complete meal we were looking for.
I got the peas on,
But there was a problem.
Three actually!
My gorgeous little kids were probably,
Correction,
Definitely unlikely to eat boiled peas.
So,
I thought that adding their favorite green to the mix…
Semi ripe, creamy and delicious Hass avocado,
Might just get them over the line on having a try!
I added a little bit of zing and zang,
From the shaved grana, lemon zest and garlic.
And some crunch from chopped roasted almonds…
We had ourselves a winner.
A complete dinner with all the basic food groups…
Meat, potatoes and greens!
Fresh peas are better but…
Frozen are great too.
So,
If you're wanting a quick an easy lunch, dinner or side,
Look no further than this week's foodie Friday's recipe of the week…
Avo, Grana & Pea Smash!
And if you're wondering…
We did get 2 of the 3 kiddies to try the smash,
Buy only 1 kinda liked the dish.
Oh well,
The grown ups loved them!
Buon appetito!
– – – – – – – – – –
Ingredients
1 large ripe avocado smashed
400g peas cooked
1 large garlic clove finely diced
½ cup parsley finely chopped
½ cup grated grana padano parmesan (more to taste)
½ cup chopped roasted almonds
Juice of 1 lemon (more to taste)
Sea salt
Cracked pepper
Method
Bring a large pot of well salted water to the boil. Add peas and reduce to the simmer. Cook for around 8-10 minutes. You'll peas are ready if their color has changed from pale to bright green and by their taste.
And note, unlike other green veggies, green peas are actually very starchy. That's what gives them their lovely sweet flavour. This is also the main reason that unlike other greens which are often better undercooked, green peas actually need top be cooked well.
Whilst peas are cooking, peel and smash your avocado. I like to combine the garlic at this stage and season well with salt, pepper and lemon. Set aside.
Once peas are cooked, drain and then mash around ¾ of your peas. Fold in the smashed and season avocado, chopped almonds and grated parmesan. Then fold in the rest of the (whole) peas.
Season to taste. You might like extra lemon or parmesan, I'll leave that to you.
And yes, frozen peas work great too… I alternate depending on season and time!