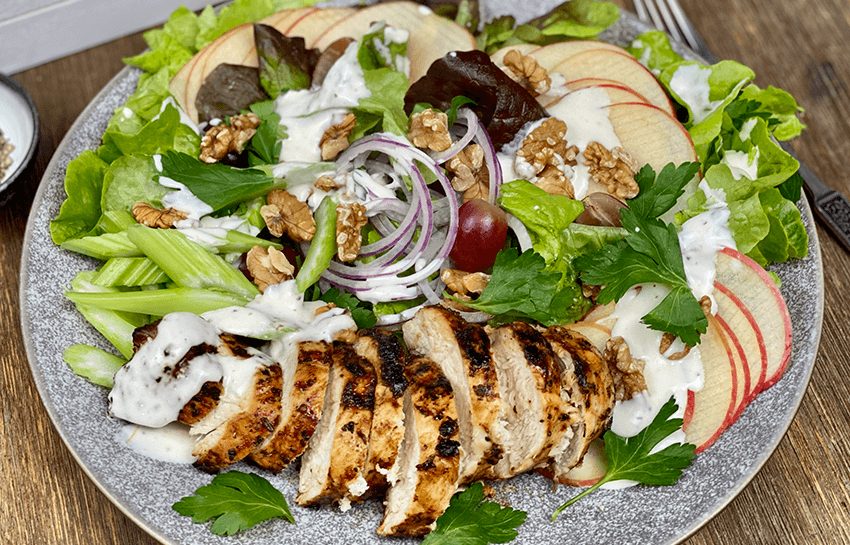 Apple & Portuguese Chicken Waldorf Salad
This light and bright salad is full of texture and flavours that will have you licking your lips and everyone calling for more!
We've used new season Ambrosia apples. They are sweet, juicy and full of flavour.
If you prefer a tart apple, then go for a Granny Smith!
We've used a Portuguese seasoned chicken breast from Meadow, which you can find in our fridge.
You can eat the chicken breasts cold or heat them up.
– – – – – – – – – –
(based on serving per person)
Salad Ingredients
1 ambrosia apple, thinly sliced on a mandolin
2 stalks of celery, sliced on the angle
2 big handfuls lettuce, choose your favourite
10 red grapes, halved
¼ Spanish onion, thinly sliced on a mandolin
A handful walnuts
A handful of fresh parsley
1 cooked chicken breast, sliced
Dressing Ingredients
¼ c mayonnaise
2 tbsp lemon juice
1 tsp apple cider vinegar
5 chives, sliced
Salt & pepper
Method
Artfully place lettuce, onion, celery, apple, grapes and walnuts on a plate with the chicken breast.
Combine mayo, lemon juice, apple cider vinegar, chives, salt and pepper, and pour over the salad.