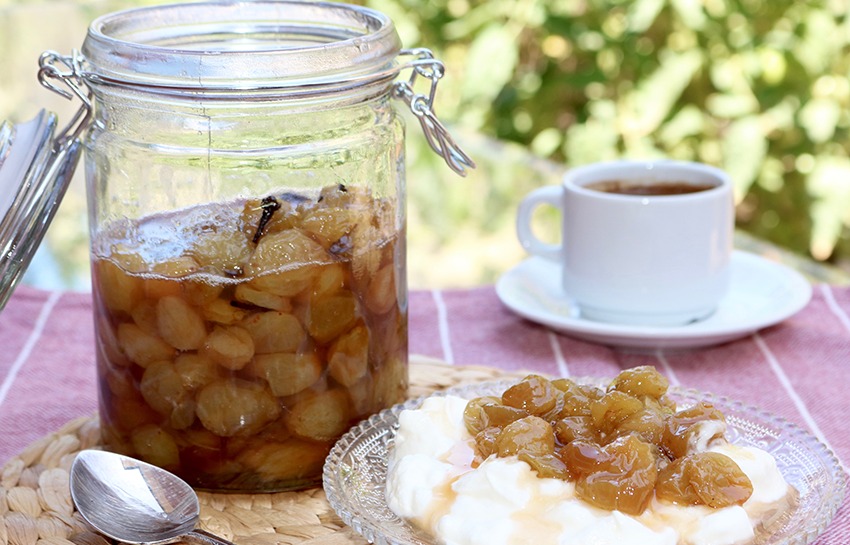 Almost Grape Jam & Yoghurt
One of the best parts about eating out in Greece,
Is the complimentary dessert.
Not because it's free…
Although that's always nice…
But because it's always a surprise…
And almost always delicious!
Each Greek village, island and city…
Will have it's own version of "kerasma"…
Greek for "our shout",
Not quite, but that's the jist of what kerasme means.
In many parts of Greece,
The kerasma is "gli-ko tu koo-tullioo!"
Literally sweet of the spoon.
It's basically an almost jam reduction…
Made from whatever the local…
And seasonal fruit…
And sometimes veg is at the time!
I've had all sorts of versions…
That have used orange, quince, watermelon and even walnuts as the hero!
The dessert gets its name from the fact that it's usually served,
On a small dessert plate,
With a glass of water…
And a little spoon.
Sweet of the "spoon".
Coffee also plays a part …
Making this the Greek version of tea and scones!
In certain parts of Greece,
To balance out the sweetness of the almost jam…
And to showcase the local produce…
It is served on top of Greek Yoghurt.
The more rustic the setting,
The more likely that the yoghurt is made,
With milk sourced from the tavern owners' own sheep &/or goats.
No such luck with our version…
But the Greek yoghurt we used was a delicious,
Thick & creamy premium local yoghurt.
The choice of fruit was seedless green grapes.
They are abundant, cheap and delicious right now…
So we thought lets stick to the original philosophy of turning hay into gold.
That's exactly what's happened with this dessert.
It's simple, not too sweet…
And so delicious that everyone will be asking for more.
Serve it up as is with coffee or tea…
As a dessert on top of yoghurt…
Or on your morning toast or muffins for brekkie.
That's all from me.
All that's left to say now is…
Kali Oreksi
Greek,
For Buon Apettito!
– – – – – – – – – –
Ingredients
1kg green seedless grapes
Juice of 1 lemon
½ cup water
1 tsp cloves
1 cinnamon stick
2 cups raw caster sugar
Greek Yoghurt to serve
Method
In a medium size pot, add the washed grapes, sugar, water cloves and cinnamon and bring to a light boil on medium-high heat, stirring occasionally.
Lightly boil for 30 minutes, while stirring occasionally.
Add the lemon juice and keep lightly boiling for 10 more minutes, then remove from the heat.
Sterilise a jar and fill it with the almost grape jam.
Serve on top of Greek Yogurt once cooled, with bread or on its own, always with a glass of water, and preferably with a coffee!