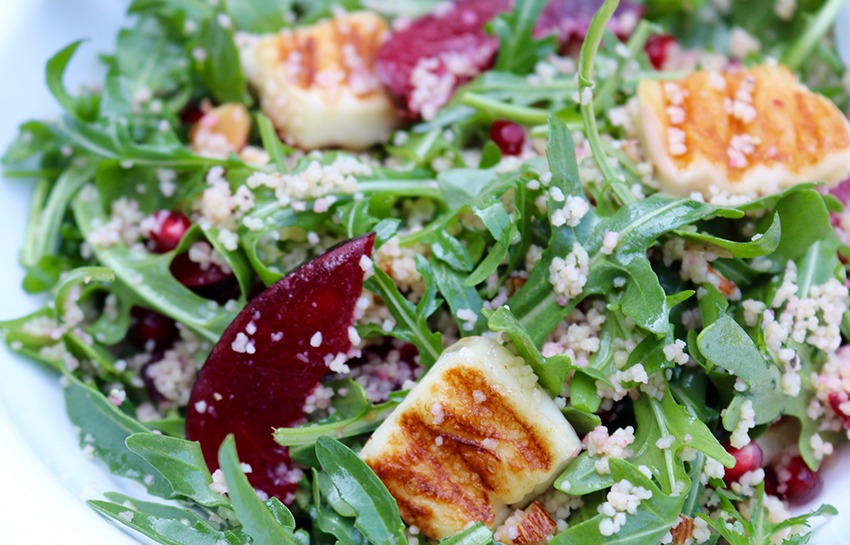 Warm Halloumi & Black Plum Salad
When I think plums…
The one meal that comes to mind,
Before any other,
Has to be the Peking Duck at Flower Drum!
Served with super thin pancakes and julienned cucumber…
The other element to the Duck & Pancake dish,
Is a sweet,
Unassuming…
And utterly delicious,
Plum sauce!
The combination of the plum sauce,
With the cucumber and the pancake,
Is just what the crispy skinned,
Juicy fleshed duck needs,
Combining to create a mouthful of flavour like no other!
But the dish I talk of is really about the duck…
And let's face it,
The plum has basically been turned into a jam of sorts.
So rather than giving you a recipe for jam…
Or plum sauce for that matter,
I thought the best way to respect our amazing Victorian Black Plums,
Would be to serve them as is!
Not on their own…
But in a fresh summer salad,
With bursts of texture and colour,
Starting with chopped almonds and fresh pomegranate!
Freshness is the wild rocket's job…
Which also creates a lovely peppery contrast to the plum.
Whilst the addition of warm grilled halloumi,
Gives the salad some natural saltiness,
And even more texture.
Be sure to add the halloumi just before your serve the salad,
So the leaves don't wilt…
And also because the halloumi tends to go rubbery when it becomes cold!
Dressed simply,
With a little olive oil, lemon & honey,
And some couscous thrown in to make the salad a complete meal,
This warm halloumi & black plum salad,
Is a great way to enjoy one of the summer's yummiest fruits!
And it even gives the Peking Duck at the Drum a run for its money!
The only thing left to say now is…
Buon Appetito!
– – – – – – – – – –
Ingredients
2 black plums thinly sliced
200g halloumi cut into cubes
100g rocket leaves
1 pomegranate, kernels removed
½ cup couscous cooked as per packet instructions
¼ cup almonds crushed
2 tbsp lemon juice
¼ cup olive oil
1 tsp honey
Sea salt, cracked pepper
Method
In a large bowl combine the cooled couscous with the almonds and pomegranates. Mix to combine ingredients evenly.
In a jar combine the olive oil, lemon juice, honey and some salt and shake to mix.
Heat a little olive oil in a skillet on medium heat and grill the halloumi cubes until charred on both sides.
Add the rocket, plums and grilled halloumi into the couscous mix and toss.
Pour the dressing over the salad and lightly toss again, then serve.
Season with a little extra salt to taste.