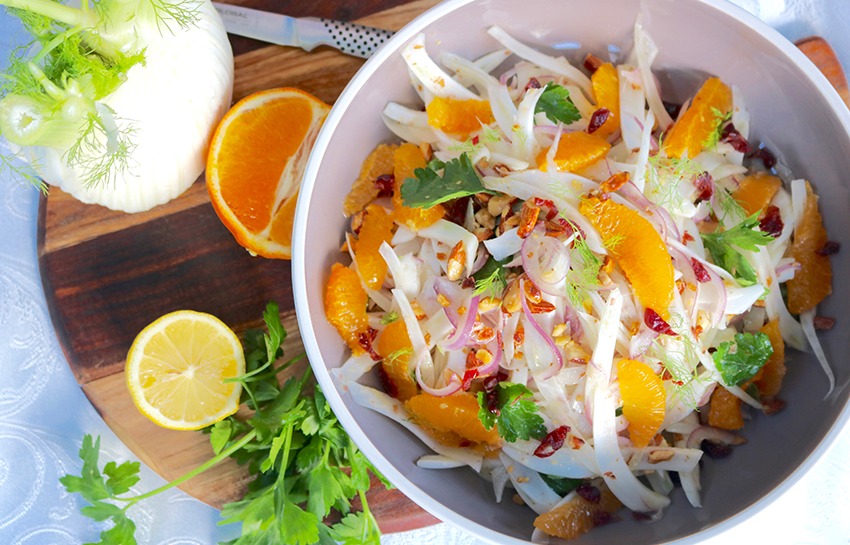 Sicilian Inspired Fennel & Tangelo Salad
Sicily is but a blur in my imagination.
I have a vague memory,
Of disembarking an old school,
1980s style ferry at the port…
It was the year 2000!
Heat, dust, a frenzy of people.
Vespers, cars and lots of noise!
The port felt more like a tiny European city,
Than it did a Mediterranean island!
Being on the island for barely a day,
I unfortunately missed out on exploring what is on all accounts a truly gorgeous island!
But I did have one more memory from that time,
A memory I hold dear,
Possibly because it's the only one I still have!
It's of the very tall and very large,
Black panted and white shirted,
Chisel faced waiter,
Who took our late lunch order,
Before we hopped on the ferry again to head back to our next destination.
He was fantastic!
Straight out of a movie!
In fact,
I still wonder if he was working there because of how he looked,
Because of being related to the owner,
Or because he was just too big of a man to say no too!
I'm not sure if it was for his waiting skills…
But either way,
He was absolutely charming.
Only speaking Italian…
Or was that Sicilian dialect that I detected,
He cared little to rush,
And even less for the noise and the mayhem that was going on around him.
On that day,
I can't tell you what I ordered,
But I'm sure it ended in a cup of espresso.
Every meal started and ended that way,
And that day was no doubt the same.
Today,
In honour of a much smaller island that I visited,
In the Aeolian island called Salina,
I thought I'd put together a fennel and orange inspired salad!
Sicilians are credited with first coming up with this wonderful combination…
And although ours is a tweak on the authentic version,
I'm sure there'd be more than one Nona,
Who'd attest to our version is being belissimo!
In place of the traditional orange,
I've gone for in season tangelos.
Slightly tangier than oranges,
They're also easier than oranges to segment!
Coarsely chopped parsley gives the salad even more of that authentic Italian look and flavour…
And chopped almonds and cranberries do there bit,
Making the salad all that more interesting,
As it journeys from the bowl into your mouth!
One day,
I trust that I will get back to the Mediterranean,
And get to experience Sicily for all its splendor.
Who knows…
Maybe I'll even convince the locals to have a go at my fennel and tangelo version of their famous salad.
Buon appetito
– – – – – – – – – –
Ingredients
1 medium fennel sliced finely, save fennel fronds
3 tangelo each segment cut out
½ cup roasted almonds crushed
1 small red onion sliced finely
½ cup parsley leaves
1 tbsp salt & extra for seasoning
1 tbsp cranberries chopped
2 tbsp olive oil
2 tbsp tangelo juice
1 tbsp lemon juice
Method
Put onion in a bowl with the 1 tbsp salt and mix together with your hands to cover the onions evenly with the salt. Set aside while you prepare the other ingredients.
In a large bowl add the fennel, almonds, cranberries and the parsley and toss evenly.
Wash the onion slices in a sieve, pat dry and add to the fennel. Toss to mix evenly.
In a jar mix together the oil, tangelo and lemon juice then pour over the fennel and toss to evenly coat.
Add the tangelo segments, season with salt and toss lightly. Garnish with fennel fronds and serve.