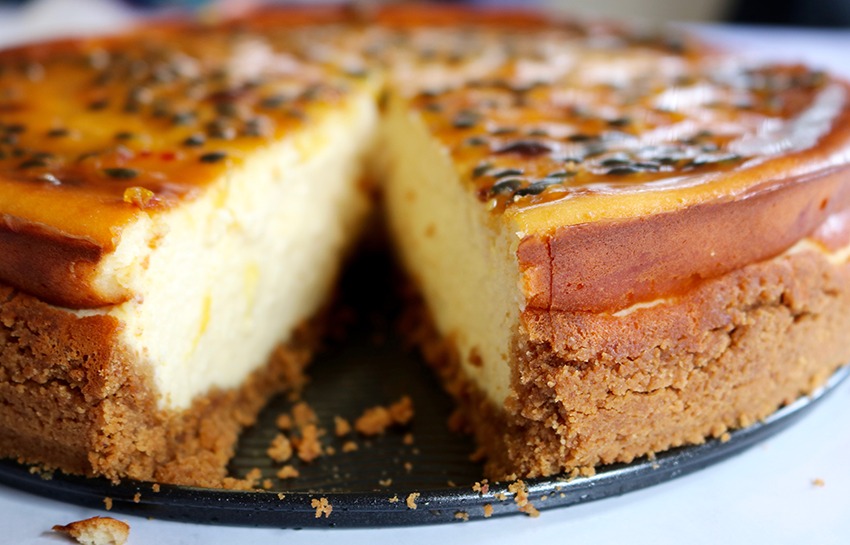 Passion Bake Cheesecake
Buongiorno,
Come stai…
E Alora!
These are the words filling my ears…
The gorgeous sounds of Italy…
In total harmony with the click click,
Click click…
Of the imported,
Six pour cafeteria…
Aka coffee machine,
To us of the non-Italian ilk…
Handsome,
Suave,
And no doubt Italian origin barista,
With his slicked back black hair,
Chiseled features,
And perfectly ironed white shirt,
Tucked into his extra tight black pants…
Pouring espresso after espresso,
As he entertains all the staff,
All females except for him,
And the tougher looking bloke on the register.
Cafeteria is now working overtime…
The jingling of cup against saucer…
Melodic,
Like a symphony…
The smell of espresso filling the entire room…
And wafting out onto the footpath,
Every time the door opens!
A beautiful,
Dark haired,
Brown eyed…
Italian goddess,
Catches the corner of my eye…
Carrying what appears to be a full…
Spectacular…
And mouth salivating tray,
Of freshly baked…
And stuffed cannoli.
I promise it's the cannoli that I'm looking at!
Cannoli lady smiles…
As she hands over the tray,
To one of her equally lovely compatriots,
Who I'm pretty sure,
Is also speaking…
In a somewhat dubious,
Probably fake,
Italian accent…
But I love it anyway!
Beauty is in the eye of the beholder…
And any woman carrying cannoli,
And almost every tray of cannoli,
Are beautiful to me.
Today, however,
My target is in the glass cake display..
And comes in the form of ricotta baked cheesecake!
Sarah Lee made an amazing version when I was a kid,
And my grandmother Georgina,
Did her pre-packs proud!
But 40 years on…
I have well and truly made the switch,
And favour the Italian variety…
Baked of course!
Fluffy,
Light,
Not too sweet,
Just sweet enough,
With an ultra-thin skin,
Formed during the baking process,
That adds a little texture,
A lovely ripple of color…
And a perfect platform,
For our passionfruit reduction.
I'd say more…
But it might be easier for you to try it for yourself,
In this week's recipe below!
All that's left to say now is…
Buon appetito!
– – – – – – – – – –
Ingredients
300g wheat biscuits like digestive
125g salted butter, melted
250g ricotta
220g cream cheese
1 cup thickened cream
½ cup passion fruit juice (pulp removed)
¾ cup raw caster sugar
3 eggs
2 tbsp flour
Pinch of salt
Pulp of 3 passion fruits
1/3 cup water
2 tbsp raw caster sugar
Method
Grease a 24cm spring form tin and set aside.
Add the biscuits to a bowl and crush them until they are like bread crumbs using a masher first, then your hands. You can use a food processor, however I do it this way so that there are some small chunky bits for texture and the biscuit isn't too fine.
Add the butter and combine well together. Press the biscuit mixture onto the base of the spring form tin, pressing it up the sides only slightly.
Cover and refrigerate while you prepare the filling.
Pre-heat your oven to 160°C.
Using an electric mixer, beat the cream cheese until smooth.
Add the ricotta and continue beating until combined, then add the cream and beat until combined.
Next add the ¾ cup sugar, salt and flour and beat until combined. Add the eggs one at a time until they are all mixed well.
Lastly, pour in the passion fruit juice and mix just enough to combine it well into the mixture.
Remove your base from the fridge and pour in the cheese mixture, evening out the top with a spatula.
Bake for 50-60 minutes or until the cake has browned on top. The centre will wobble slightly, and this is ok.
Remove from the oven and allow to cool. Once the cake has cooled, refrigerate it for at least 3-4 hours or even overnight.
In a medium saucepan, heat the water and 2 tbsp caster sugar and bring to the boil. Boil for 3 minutes until the water reduces then add the passion fruit pulp.
Boil for another 2-3 minutes until it has reduced to a nice syrup.
Pour over the cake and spread over the top evenly then cut wedges and serve!