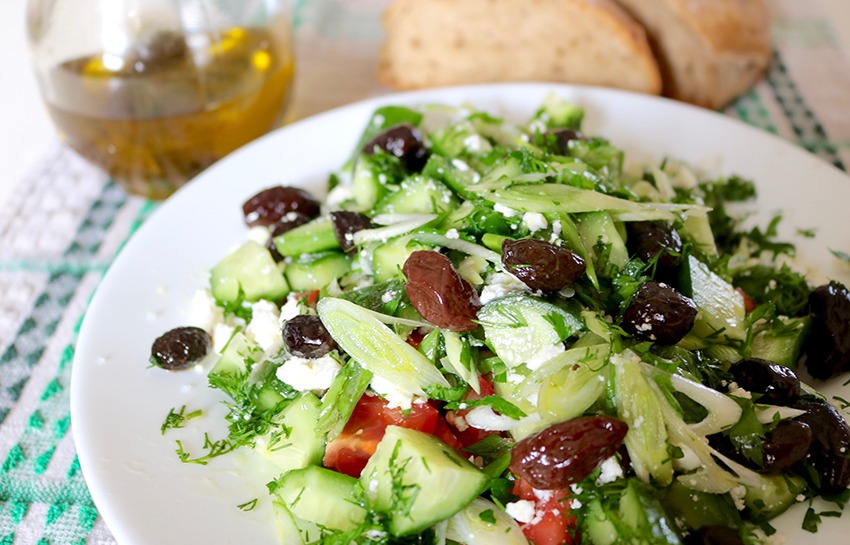 Greek Salad
There is arguably no simpler dish than a Greek salad.
So why do some Greek salads taste great yet other Greek salads taste, well…
Not so great?
Quality & quantity!
That's it.
If you've top quality ingredients and….
The right quantity of each of them…
You'll have a superb Greek salad.
And if not…
It might be ok, it might be not so good.
So let's take a look at the art & the science required to put together a great Greek salad.
Superb olive oil and lots of it!
Yep.
Only the finest extra virgin olive oil, ideally cold pressed & lots of it.
And yes…
It's fine to have lots of raw olive oil.
It's a good fat, linked to all sorts of health benefits…
Most notably, decreased risk of heart related disease.
It also satiates you..
Which basically means it makes you fill fuller for longer…
Which means you need to eat less food rather than more to feel full.
Next on the list of crucial inputs are super fresh tomatoes & cucumbers.
You want the tomatoes semi ripe to ripe and juicy to get that authentic Greek salad taste.
I have had one too many tomatoes in salads that are just too "green" or under ripe and…
This is one of the biggest errors you can make in putting together your Greek salad.
So remember good quality, ripe toms!
Crisp & fresh, hard (Lebanese) cucumbers are also critical to a super salad.
They're this week's pick of the week and the star of this salad.
Skin on for fibre and nutrients, just give them a good wash and chop them up length ways twice and then into bite size pieces.
Why lengthwise?
I just think it looks better & gives a crunchier mouthful when you're eating your cuc's.
Super quality olive oil and lots of it is a must.
Make sure it's extra virgin & cold pressed.
Greeks & Italians have been fuelling their bodies and leading long and healthy lives on the back of one of natures greatest gifts.
Olive oil.
So I suggest you do the same.
Plus it tastes great and really creates the tone for each and every mouthful.
As does my friend Harold Holt.
Aka excellent salt.
Murray Valley is one of my personal faves.
Given that there's feta in the salad which is also salty…
It's a balancing act between enhancing flavour and going over the edge.
I err on the side of falling over the edge…
It's all up to personal tastes…
And for sure, good quality salt allows you to be a little more generous without spoiling the experience.
Finally…
My point of difference is lots and lots of seasonal herbs.
Parsley & dill are a must.
And I prefer spring onion to red/spanish onion just because I do!
You can also use mint & even basil.
The more herbs the better I say and…
If you can get the dance right, between quality & quantity I can assure you will make yourself the best Greek salad you have ever eaten.
Notable mentions go to dried oregano, good quality vinegar & excellent olives.
Cracked pepper is optional.
That's all for this week's Foodie Friday's recipe…
Buon appetito…
Or as they say in Greek.
Kali oreksi!
– – – – – – – – – –
Ingredients
2 tomatoes chopped
3 spring onions sliced diagonally
2 tbsp parsley chopped
2 lebanese cucumbers quartered & chopped
2 tbsp dill chopped
30g feta crumbled
10 black olives
¼ cup olive oil
1 tbsp apple cider vinegar
1 tsp dried oregano
Sea salt
Cracked pepper
Method
In a medium bowl, add the tomato and cucumbers and (optional) you can season with salt & pepper at this time.
Add the herbs & spring onion.
Crumble the feta over the top & add the olives.
Pour over olive oil and vinegar and season with salt, pepper & oregano.
Serve!!