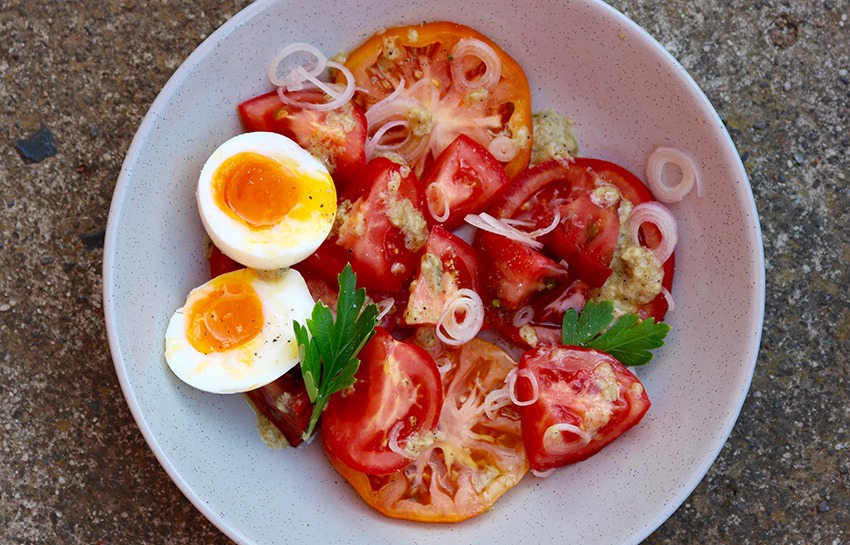 Doncaster Tomato & Anchovy Vinaigrette Salad
here's something special about tomatoes in Greece!
They look far from perfect,
They're often soft and overripe,
Yet the taste, well…
It's just magnificent!
Is it the Greek soil?
Maybe the Greek sun?
Could they be grown from ancient heirloom tomato seeds,
Handed down from generation to generation,
Making for the ultimate tomato?
All this could be true…
But I think,
One of the most important reasons,
If not THE most important reason,
Tomatoes in Greece taste so good…
Is because you're usually eating them in summer!
That's when we most love to travel to Europe,
And to Greece,
And that's when tomatoes taste their best –
In peak summer!
Right now in Melbourne,
We are at in the middle of summer…
And our local soil,
Our Melbourne sun…
And good quality seed,
Handed down from generation to generation,
Makes our locally grown Doncaster tomatoes…
So damn tasty!
When it came to how I should cook our wonderful,
Firm,
Aromatic,
And flavour filled Doncaster toms…
I decided on not cooking them at all!
Tomatoes shine in all their natural glory…
So I decided to opt for a salad,
Adding flavours and colours to contrast…
And enhance the Doncaster in their natural form!
I've gone for a salty and sharp anchovy vinaigrette,
Choosing wonderful white Sicilian anchovies,
Which are much more delicate than other anchovies…
A little more expensive,
But definitely worth it.
A creamy,
Soft boiled egg…
Was also part of the mix.
Anchovy and egg is a classic combo because it works…
But the trick here is to make sure you boil your eggs to perfection,
Because you really want the ooze of the yolk,
Against the anchovy dressing,
Otherwise it's kind like chalk!
My top tip for perfect soft-boiled eggs,
Is to think of soft boiling as a science,
Not an art!
My method is to place my eggs in cold water…
Bringing it to the boil,
And then reducing to a gentle simmer,
For exactly 2 minutes and 30 seconds!
Then straight into an ice bath for 2 minutes.
This stops the cooking process,
And also makes it easier to peel the eggs.
Note I say easier not easy!
Take your time,
Because the sexiness of a soft-boiled egg,
Cut in half…
And served in a salad,
Is often underestimated,
And definitely worth the fuss!
Depending on your stove top heat,
The size of your pot,
And the number of eggs,
You may find slight variation,
But start with my numbers,
And tweak to suit – it really is worth it!
Some black and yellow heirloom tomatoes for color…
And some variation in the texture and tomato flavour profile,
And parsley for more colour…
And freshness!
It seems like such a simple little salad,
But too much of anything…
Especially salt,
Could be disastrous.
I love salt…
So I used Murray River,
As I think it is the best…
And it's a little softer and sweeter than other salts.
Even so,
I add very little when making my vinaigrette,
And just a little more when I serve up the salad.
Build the saltiness as you go…
And you'll be fine.
I also served up a plate of extra,
Whole white Italian anchovy on the side…
Drizzled with some olive oil,
Chopped parsley.
And of course,
Crunchy,
Chargrilled bread,
Drizzled with some more olive oil,
And topped with a little salt flake…
And dry oregano…
And you could be forgiven for thinking you're back in Europe,
Enjoying a lovely heirloom tomato and anchovy salad with friends!
All that's left to say now is…
Buon appetito!
– – – – – – – – – –
Ingredients
3 Doncaster tomatoes (chopped)
1 Black Adelaide Tomato (sliced)
1 Yellow Adelaide Tomato (sliced)
1 shallot (sliced finely)
2 large soft-boiled & peeled free-range eggs
Anchovy Vinaigrette
5 tbsp cold pressed, olive oil
2 tbsp white wine (or red) vinegar
3 white anchovies
1 large garlic clove (crushed)
1 tsp Dijon mustard
Slat & pepper to taste
2-3 tsp chopped parsley
Method
In a mortar and pestle, add the anchovies, garlic, Dijon mustard. Gently smash almost to a puree, then add 3 tbsp of olive oil, 1 tbsp white wine vinegar and a little salt & pepper. Keep smashing until it's all blended together. Taste and add more olive oil, vinegar and salt & pepper to taste. Set aside.
In a small pot, add cold water and your eggs. Bring to the boil, then reduce to a gentle simmer for 2mins 30secs. Transfer to an ice bath for 2 minutes. Gently peel.
Assemble your tomatoes in a wide bowl, ensuring the different colours can be seen. Place the egg and the shallots over your tomatoes, add the parsley to your vinaigrette and gently pour over your salad.
I added a little more salt and pepper and a tiny drizzle of olive oil for gloss, as well as 2 0r 3 parsley leaves for more color!