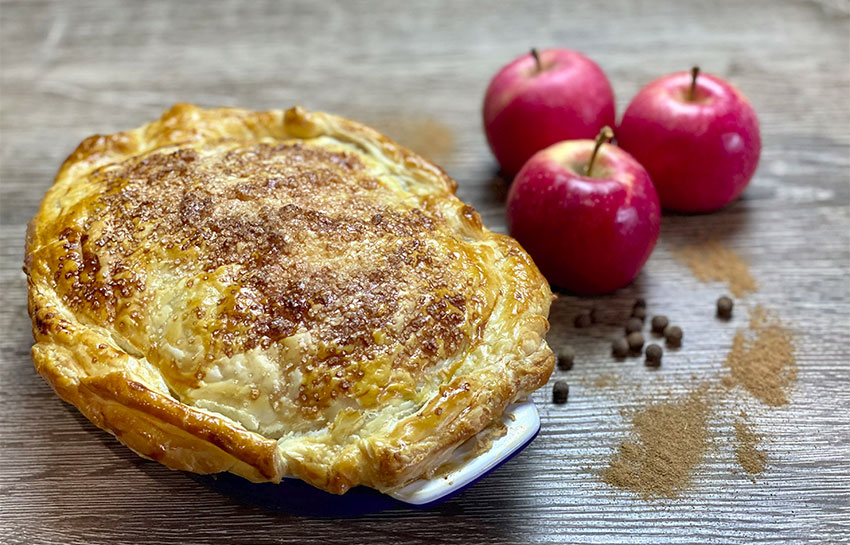 Apple Pot Pie
I call this an apple pot pie because I don't bother with pastry on bottom.
Sometimes you just want a quick comforting dessert without too much work!
And this is it!
You can top the pie with puff pastry or shortcrust; it's entirely up to you.
We've used an all butter puff pastry.
– – – – – – – – – –
Ingredients
1 kg apples, peeled, cored and cut into chunks
¼ c sugar, Plus a little extra
2 tbsp verjuice
2 tbsp water
1 tsp cinnamon, plus a little extra
5 all spice berries
1 piece good puff pastry
1 egg, lightly beaten
Method
Preheat oven to 180°C
Place apples, sugar, verjuice, water, cinnamon and berries in a medium sized saucepan and cook for about 10 mins with a lid on. Shake the pot 3 or 4 times.
Pour the apple mix into a medium sized baking pan, shake over a little more cinnamon and sugar, then cover with pastry.
Crimp the edges of the pastry around the edge of the dish, brush with egg, sprinkle over more sugar, and bake for 30 mins or until the pastry is golden.