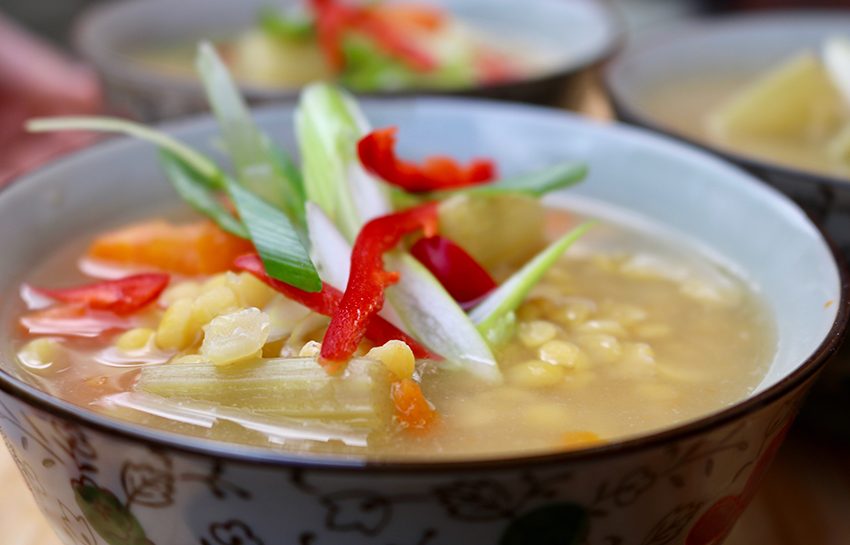 Veggie & Split Pea Soup
I find after a long day at work…
There's nothing better than sitting down,
And enjoying a lovely meal with my family.
As much as I love to cook,
And spend hours and hours in the kitchen,
There are some days that even I can't be bothered with dinner prep,
But being fussy,
And not a fan of take-away,
I can't go a single day without a proper, home-cooked meal.
That's why I love my pre-prepared meals.
Meals that don't take hours to make,
Meals that can be put together in minutes,
Sometimes just heated up…
Usually needing a salad to accompany the main,
Some lovely warmed bread…
Or as little as a garnish to spruce it up.
One such meal is my veggie & spilt pea soup.
It takes a little prep work –
Usually over the weekend,
Boiling up chicken bones or carcasses,
Then doing the celery, carrot & potato thing…
And finally adding some split pea for protein, texture and flavour.
This is a pre-prepared meal that I love.
I literally heat up my soup for 5-10 minutes,
And then garnish with things like chopped spring onion,
Chili and parsley…
Serve up with some lemon wedges…
And lovely crusty bread,
Drizzled with olive oil.
A salad if I'm really keen,
Of the green variety,
And within 15 minutes on a school night,
After a long day at work,
Soup's served up,
Family is chatting away about the day…
And the belly,
And family…
Are in a very happy place.
All that's left to say now is…
Buon appetito!
– – – – – – – – – –
Ingredients for the Bone Broth
500g chicken bones (or 2 carcasses)
4 litres of water
1 flat tbsp sea salt
1 brown onion peeled and cut in half
Tops of 4 celery stalks with leaves roughly chopped
2 carrots chopped into large pieces
¼ cup olive oil
2 bay leaf
1 tbsp peppercorns
Ingredients for the soup
4 stalks of celery (no tops) chopped into bite size pieces
2 large carrots chopped into bite size pieces
2 large brushed potatoes chopped into pieces
1 ½ cups yellow split peas
1 lemon cut into wedges (for serving)
Chilli, spring onions & parsley to garnish (optional)
Method for broth
In a large pot add the chicken bones, water, oil, salt, onion, celery, carrots, bay leaf and peppercorns and bring to the boil.
Reduce to a simmer and cook, covered, for around 4-5 hours.
Strain broth and transfer the broth to a large pot.
Method for the soup
Add the celery, carrots, potatoes and split peas to the bone broth and bring to the boil.
Reduce to a simmer and cook covered for around 30-45 minutes or until the veggies and the split peas are tender.
Serve garnished with sliced chillies and spring onions and with a squeeze of lemon.