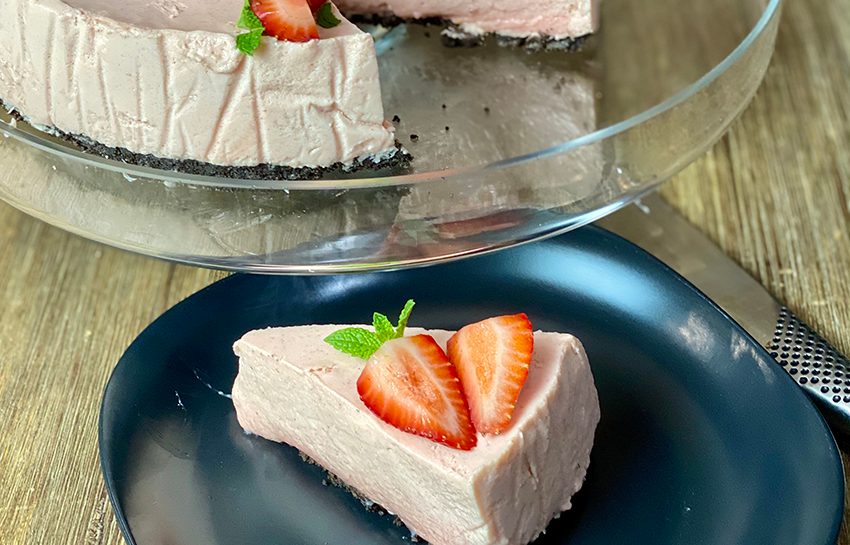 Strawberry Mousse Cake
This mousse cake is 100% delicious!
You can also serve the mousse in glasses or bowls if you don't want to go down the cake path.
And if Oreo cookies aren't your thing, you can replace them with chocolate sponge if you prefer.
– – – – – – – – – –
Ingredients
1 pack strawberry Oreos
50 g butter, melted
1 c milk, very warm but not boiling
4 sheets gelatine
4 egg yolks
1 c sugar
3 punnets strawberries, hulled
30 ml lemon juice
1 ½ c cream, whipped to soft peaks
Method
Place cookies and butter in a food processor and blitz. Press into the bottom of a lined 20cm spring form cake tin.
Place gelatine sheets in a bowl of cold water and set aside.
Beat egg yolks and sugar until the sugar is mostly dissolved.
Slowly pour in the warm milk while whisking.
Place the mix in a saucepan and cook over low heat, stirring continually until it starts to thicken and coats the back of the spoon.
Squeeze the water from the gelatine and add to the mix, stir until dissolved.
Blitz the strawberries and lemon juice in a blender until smooth, pass through a sieve and stir into the custard mixture.
Add whipped cream and fold through.
Pour over the base of the cake, smooth, and refrigerate for 8 to 10 hours or overnight is even better.
Note: You don't have to sieve the strawberry mix, you can leave it as it is if you prefer.